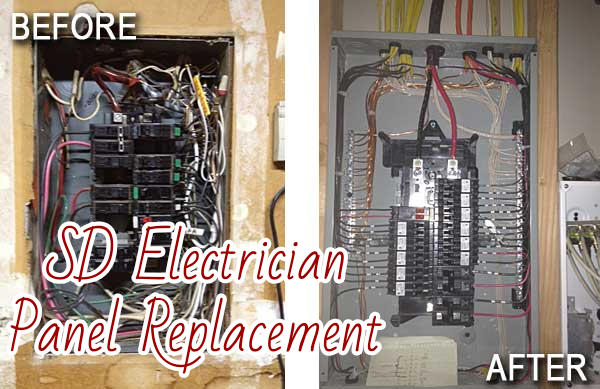 CLD Electric is a licensed Electrician serving San Diego and North County. Over the years, we have focused on two aspects here at CLD Electric to improve our business. These two aspects include excellent electrical repair and installation services and high-quality customer service. We want our like electricians to know everything there is about the electrical trade and how to best troubleshoot, overcome, repair, and install your lighting fixtures and systems. Second is customer service, customer service is and has been a primary focus from our entire organization since we opened. Taking excellent care of the customer and making sure customers are happy with our services is what we stay focused on every day of the year.
Can CLD Electric replace my electrical panel?
Yes. CLD electric can replace any electrical panel, residential or commercial. Over the years, we've provided hundreds of panel swaps, upgrades, replacements, and installations. Whether you need some slight updates to the current panel you have or a full panel replacement, our skilled electricians here at CLD Electric can provide expert electrical services for you. We train our electricians to assess electrical panels, circuit breaker boxes and fuses to evaluate whether replacement, repair, or nothing to be done, is the best action taken.
How long can my electrical panel last?
Depending on what year your electrical panel was installed, who installed it, are a couple of the factors that impact the longevity of your current electrical panel. Other factors that go into the longevity of your electrical panel are exposure, usage, and which parts they used to install the panel. Any or all of these factors contribute to needing your panel replaced or repaired. 
Why choose CLD Electric?
At CLD Electric, we aim to be the best electrician in San Diego every day that we go out and provide electrical services. Building an excellent reputation for being the best electrician in San Diego has not been easy. We have worked through challenging situations to overcome serious troubleshooting. This troubleshooting was overcome by our company when it couldn't be from other electrical contractors in San Diego. We know that we have expert skills and the ability to master tasks and problems that other electricians cannot overcome. Above all of our capabilities, we prioritize customer service, and we want to make sure that our customers experience the best service we can offer.
We look forward to the opportunity to earn your business. 
CLD Electric location is 5519 Clairemont Mesa Blvd. # 255 in San Diego, California 92117. CLD Electric phone is (619) 638-0228. CLD Electric hours are 8 am – 6 pm Monday through Friday. 10 am to 4 pm on Saturday. Please call to schedule appointments.