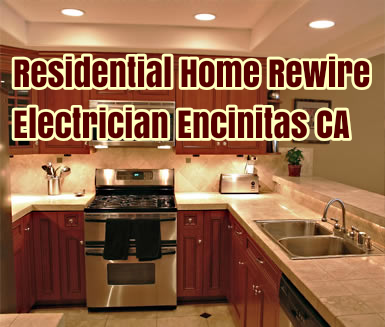 Our skilled electricians are equipped, enthusiastic, and prepared to provide expert electrical repair/installation throughout your home. We teach our electricians here at CLD Electric to be up-to-date on the newest strategies and techniques for electricians. Simultaneously we train our electrical contractors to be knowledgeable in the latest electrical products available in the market place. We want our electricians to identify each product you might be requiring us to install. We want to keep our electricians up to date on the best methods and strategies for implementing a home rewire.
Does CLD Electric service Encinitas? 
Yes, CLD Electric provides electrical repair service, including lighting fixture install, can lights, recessed lighting, panel, switches, wiring, throughout Encinitas. We have two dedicated crews near Encinitas every day servicing our local community. One of our teams located in La Jolla, the other crew is in Oceanside. We have worked in and around in Encinitas for over ten years, we are very familiar with the neighborhoods. If you're looking for a qualified electrician in Encinitas, CLD Electric is an excellent option.
Can CLD Electric provide a whole home rewire?
Whole-home rewires a service that we offer several times a month to customers throughout the San Diego area. If you require your whole home rewired, our skilled electricians can wire your home correctly, effectively, and quickly. If your home needs a rewire or an updated panel call CLD Electric and we can get your electrical system up-to-date and working correctly.
Why choose CLD Electric?
We know that you have many choices for electricians in San Diego, and we appreciate you taking some time to assess our company. We have built our reputation around quality customer service, excellent electrical repair/installation, and clear communication. These three features of our company are critical to accomplishing our goals. If you haven't already, we suggest you evaluate our reviews and see what our customers have remarked about our services. We are a 5 star rated electrician. We're committed to providing superior electrical repairs to all of our customers, residential and commercial.
We look forward to the opportunity to earn your business. 
CLD Electric location is 5519 Clairemont Mesa Blvd. # 255 in San Diego, California 92117. CLD Electric phone is (619) 638-0228. CLD Electric hours are 8 am – 6 pm Monday through Friday. 10 am to 4 pm on Saturday. Please call to schedule appointments.