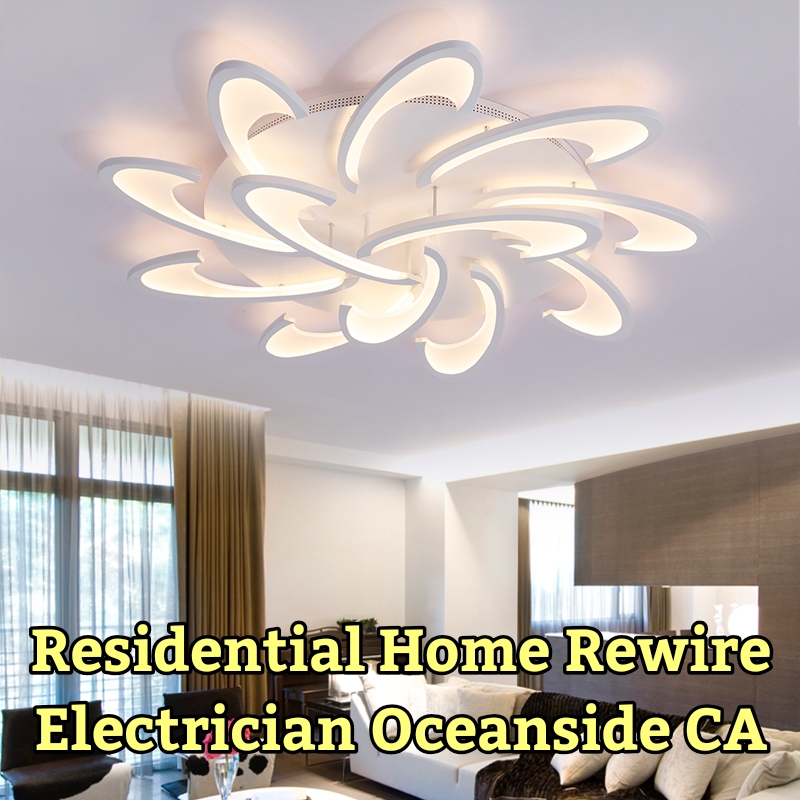 Oceanside is one of the main areas we service. We have a specialized team of electricians to assist residential customers in the Oceanside/Carlsbad area. We created this dedicated team of electrical contractors several years ago when we noticed that the demand in Oceanside/Carlsbad had grown enough for us to have a dedicated team here. It certainly has been exciting for us to develop into the Oceanside marketplace. We have worked diligently to develop a healthy relationship and reputation with the homeowners in Oceanside. Our electricians provide all types of wiring services, including lighting fixtures, can lights, recessed lighting, along with light repair, outlets, and dimmer switches. Our skilled electrical contractors work on electrical panel upgrades and replacements and can help you replace your breaker box and circuits.
Is there a big difference between a handyman and an electrician?
Absolutely. There's a gigantic difference between a handyman and an electrician. The knowledge a skilled electrician has is immense. Having adequate electrical work provided in your home dictates how safe your home is. The amount of times we've gone over to customer's homes and replaced flickering switches, poor wiring, inadequate lighting installation, the list is countless. Not only can this cost you double for paying the handyman and then paying a licensed electrician to do the job correctly. In addition to the expense, the problems created could risk the safety of your home. Most of our customers don't think about these things because nobody ever wants to think about the worse things that could happen. It's our job to make sure that your house wiring is correct, and the safety of your home is 100%.
Quality customer service above everything else!
At CLD Electric, we prioritize customer service above everything else. Making sure customers come number one has been a dedication that we've developed over the years here. Our electric company runs more efficiently when our customers are all 100% happy. We know that you have many options for top tier electricians in San Diego, and we appreciate you taking some time to evaluate our business. With our years of experience, we know how to get the job done the 1st time correctly.
Why choose CLD Electric?
CLD Electric has built our reputation for quality customer service, excellent electrical repair, and clear communication. By focusing on these three aspects of our business, it allows us to concentrate on what matters the most. By putting our priorities front and center every day, we've been able to create an excellent service in the San Diego community. The reputation that we've built is one of excellence, quality lighting, and panel installation. If you want the best electrician in San Diego, please give us a call and allow us to show you how committed we are to customer service.
We look forward to the opportunity to earn your business. 
CLD Electric location is 5519 Clairemont Mesa Blvd. # 255 in San Diego, California 92117. CLD Electric phone is (619) 638-0228. CLD Electric hours are 8 am – 6 pm Monday through Friday. 10 am to 4 pm on Saturday. Please call to schedule appointments.