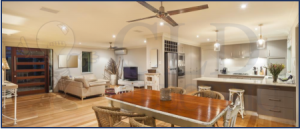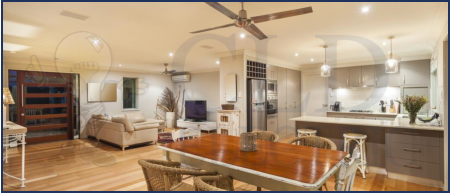 Describing recessed lighting could be lights that don't hang out from the ceiling. Recessed lighting are light fixtures installed within metal bodies and embedded within the ceiling. They require extensive wiring to be installed and their design helps to illuminate any space without the clutter of hanging bulbs.
Recessed lighting are highly versatile fixtures that can be installed on the walls, ground, ceiling, and in specific spots while doing exactly what you want them to do.
Components of recessed lighting
These unique lighting are typically built with two main components – the housing and trim. The housing of a recessed light is the part that carries the light source and is recessed or pushed back into the ceiling, wall, or ground. It also carries the other electrical parts of the light fixture.
The trim is the outward part you see. They offer aesthetic appeal and can be used to direct the beam of the light. When you purchase recessed lighting, you must ensure that the housing and trim are a match.
Types of recessed lighting housing
There is a wide range of recessed lighting housing on the market, and what you choose depends on your needs.
Slope ceiling housing allows you to angle the recessed lights in a sloped ceiling. During your purchase of this housing, it's important to check the angles first.
New construction housing is used before the ceiling to a room is installed. Hence, if you are adding a new room or still in construction, this recessed housing is suitable.
Shallow ceiling housing gives you the flexibility you need to use it with 2 inch by 6 inch joists.
Remodel housing is the opposite of a new construction housing. This type of housing is designed for installation in an existing ceiling.
Airtight housing is positioned to reduce airflow between unconditioned and conditioned spaces.
Non-IC housing is a housing that demands at least 3 inches of clearance space from the insulation.
Insulation contact rated housing on the other hand is designed for direct contact with the insulation.
Types of recessed lighting trims
Baffle trims
Shower trim
Wall-wash trim
Reflector trim
Open trim
Pin hole trim
Gimbal trim
Eyeball trim
Tips for purchasing trims
Open reflector trim emits the widest range of uncontrolled light. For less glare, baffle trims and specular trims are more appropriate.
Trims can be designated as wet and damp location trims. While they sound similar they are not the same and should be used correctly.
Adjustable trims are better suited for sloped ceilings or washed walls. If the ceiling is not sloped or walls not washed, fixed trims are a better option.
Recessed lighting finishes
Trims come in different finishing, and this can also influence what works best for your home and décor. The most popular finishes are;
White
Black
Silver
Bronze
Nickel
Chrome
Recessed lighting installation
You can always find the manufacturer's instructions with your purchased recessed lighting. However, if you don't know what to do and feel uncomfortable handling the installation, you can call a professional electrician for a stress-free installation.