Estimate by Poway Electrician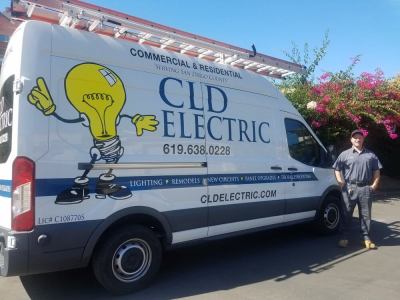 If you are searching for a Poway electrician, search no further! CLD Electric has been serving the Poway area for over 20 years. With our senior citizen discounts, military discounts, and estimates, we make electrical work affordable for all resident and business owners. Our company was founded on principles of integrity and is proud to only provide optimal customer service. Call us today to see how we make a difference!
Call Us Today!
Contact Us Today!
Locally Owned and Operated Poway Electrician
When looking for a local electrician, you need one you can count on. CLD Electric only hires the most reliable electrician so you can be sure your next electrical project goes off without a hitch. CLD ELectric, an electrician near you, an electrician you can count on.
Poway Electrical Services
Electrical Troubleshooting in Poway
Electrical troubleshooting is the act of searching for the problem and figuring out what to do to fix the problem. Many jobs require troubleshooting. At CLD Electric, our electricians have over 20 years of experience so it's likely we are able to find the root of your electrical issue with ease.
How long does electrical troubleshooting take? The answer here is: it depends. Electrical issues can arise for a variety of reasons and in different aspects of your electrical system. For example, a problem in your electrical panel could have a very different solution than a problem with your lighting. However, you could be having lighting issues because of your electrical panel. An expert electrician will be able to take a look at what's going on, assess the situation, and fix the problem.
How To Find a Local Electrician
Stop looking! You've found a local Poway electrician with 5 star reviews on Yelp and Google. Give us a call today and learn why! We offer discounts and estimates to keep the cost low. Locally owned and operated for over 20 years, CLD Electric offers fast service response time to complete your project on time and on budget. Call us now to get on schedule!
Recent Blog Posts