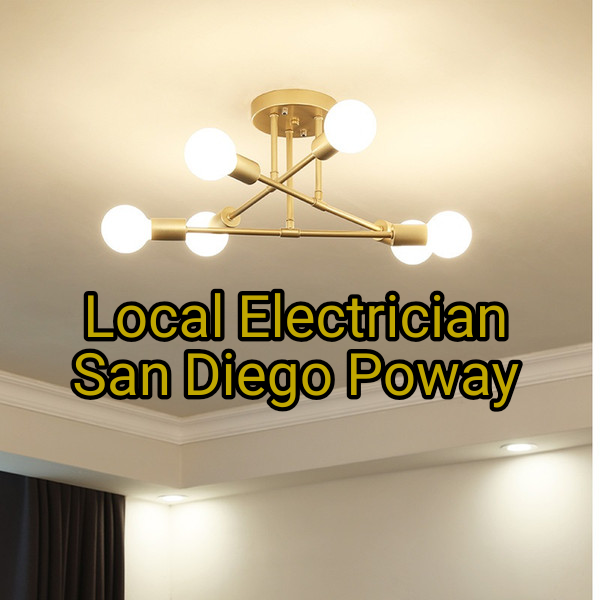 CLD Electric has been providing excellent electrical repairs in Poway for over ten years. Our electricians are skilled at working with customers to make sure that their residential electrical systems are working correctly. We keep our electricians trained on the newest techniques and latest products available to make sure we can install whatever type of lighting fixture or new electrical products available to homeowners. CLD Electric works all over San Diego and North County. CLD Electric has a dedicated crew of electricians in Poway to reduce waiting time and maximize response time.
How long does it take to replace an outlet?
Most outlet replacements take 10 or 15 minutes unless there are additional wiring problems or power problems. If the outlet has burned out, we may need to evaluate the wiring (damage) to make sure a new outlet is safe to install, which may take longer. For most homeowners having an outlet replaced is an easy and straightforward service that we provide daily. 
Which lighting fixture is best for my house?
Great question. Since there are many lighting applications with different fixtures and ways of putting in lighting throughout the home, we always suggest that you consult with us about your endless options. Depending on the room size, a chandelier may be appropriate. If you're thinking about a hallway or office, you may want to consider recessed or can lighting. We always listen to our customers and take into consideration what they're going to be utilizing the room for, and what lighting application is best suitable for those requirements. We have decades of expertise assessing lighting, installing excellent light fixtures, that work correctly for customers. 
Why choose CLD Electric? 
Quality. Every step of the way, our business is built on excellence. We only hire quality electricians that have excellent standards and techniques. We make sure that all of our electricians demonstrate quality customer service and are excellent at communicating which lighting options could best suit our customers. Third & most importantly, we want our electricians quality listeners and communicators. We need each electrician to listen to our customers intently to make sure that we deliver the exact service our customers desire. We always want to be clear about what exactly we're doing to your home. That clarity makes sure you get which service you're requesting. Our attention to detail and focus on customer service has allowed us to build a strong reputation in San Diego for having many quality electricians who provide high-quality electrical repair.
We look forward to the opportunity to earn your business.
CLD Electric location is 5519 Clairemont Mesa Blvd. # 255 in San Diego, California 92117. CLD Electric phone is (619) 638-0228. CLD Electric hours are 8 am – 6 pm Monday through Friday. 10 am to 4 pm on Saturday. Please call to schedule appointments.