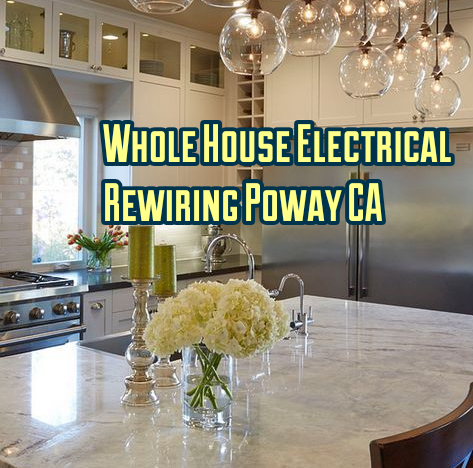 Our electricians have been servicing Poway for over ten years now. Poway has continued to grow our electrical services for residential and commercial customers have increased. Whole-home rewires become a more frequent service that we offer as homes begin to age in electrical wiring begins to falter. Ideally, taking care of the electrical wiring before it begins to falter so that your home remains safe is a priority here at CLD Electric. Safety is always our number one consideration here and CLD Electric. The safer that we can make your home or business, the better we have done our job.
Does a whole home rewire fix all electrical issues?
The simple answer is no. Even after a whole house rewires, there can still be shorts in electrical issues from the circuit Box or faulty outlet. These problems are rare, and most of the time, a whole house rewire will fix all of the electrical issues you're experiencing. When doing a whole-home rewire, we check all of the systems, including the circuit breaker box and panel, to make sure that everything is working correctly. In addition to checking the circuit breaker box and panel, we make sure that all the outlets and switches are working correctly. When a whole house rewire has been completed with CLD Electric, your entire electrical system will work properly.
When is it the right time to get a home rewired?
Not all homes need rewiring. Many times if your home is newer than 25 to 30 years old, your electrical system is probably working correctly and up-to-date. Unfortunately, some modern houses have electrical wiring that isn't correctly installed. Some other issues with new homes are that it's had too much usage and overloaded.  Multiple factors that can go into a new house needing rewiring electrically. Again it's uncommon to find a house that's brand new that needs rewiring. Most homes that are 40 years or older that haven't had a rewire completed should have one looked at now. Forty years ago was a house built-in 1980.
Why choose CLD Electric?
CLD Electric and our electricians have over 50 years of experience combined working in the electrical repair, installation, and replacement field. We have worked on hundreds of projects for San Diego residents over the years. Over that time, we've amassed over 100 reviews on all of the different websites out there. Almost every one of these reviews has been positive. At CLD Electric, we're committed to providing excellent customer service, reliable electric repair, and clear communication. We know you have many options for an electrician in San Diego, and we appreciate you taking some time to evaluate us. We believe it's through our customer service that we've been able to get ahead and maintain our excellent reputation here in San Diego.
We look forward to the opportunity to earn your business.
CLD Electric location is 5519 Clairemont Mesa Blvd. # 255 in San Diego, California 92117. CLD Electric phone is (619) 638-0228. CLD Electric hours are 8 am – 6 pm Monday through Friday. 10 am to 4 pm on Saturday. Please call to schedule appointments.