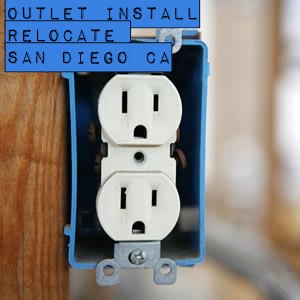 Outlet installation or relocation are standard services that we offer here at CLD Electric. Customers throughout San Diego need new outlets installed in their homes, and they also need outlets relocated. Providing both of these electrical services is simple, straightforward, and easy for CLD Electric. Our trained electricians have over 50 years of experience providing all aspects of the electrical service, including outlet installation relocation, dimmer switches, switch installment. Other services include lighting fixtures, can lights, recessed lighting, panels, circuit breaker repair, breaker boxes, wiring, rewires, whole home rewired. No matter what kind of residential electrical service you need us performing, our skilled electricians can install, repair, or replace it. 
Can CLD Electric help me relocate outlets in my office?
Yes. Anywhere in your office, we can relocate an outlet, or we can install new ones. We have done outlet installments and relocations thousands of times, and over this next year, we plan on doing it thousands more. If you need some outlets repaired replaced, relocated, or installed, you can call us, and we will get you scheduled, show up on time, and provide the job correctly.
CLD Electric can rewire or relocate outlet anywhere in your home!
Regardless of the size of the home you have and how big your residential property is, our skilled electricians train at how to deal with all homes, all sizes, throughout San Diego. In addition to servicing San Diego, we offer electrical services in Carlsbad, Oceanside, La Jolla. We send our electricians to yearly training courses to keep them up to date, informed on the newest products and techniques available to electrical contractors. Our training ensures that the service that you get provided is amongst the best in the country. For us, this is a constant reminder of staying focused, focused on being the best electrician in San Diego, means continuously training to be the best.
Why choose CLD Electric? 
Our entire organization has worked hard on developing and maintaining an excellent reputation throughout the community. Our electricians, office staff, and management have all put sweat equity into our reputation and making sure that customer service is the essential aspect of our business. Communication is key. We always want to be transparent with our customers about what services we're providing and what products we are installing so that everybody's on the same page. Clarity with services allows us to have a strong relationship with our customers.
We look forward to the opportunity to earn your business. 
CLD Electric location is 5519 Clairemont Mesa Blvd. # 255 in San Diego, California 92117. CLD Electric phone is (619) 638-0228. CLD Electric hours are 8 am – 6 pm Monday through Friday. 10 am to 4 pm on Saturday. Please call to schedule appointments.