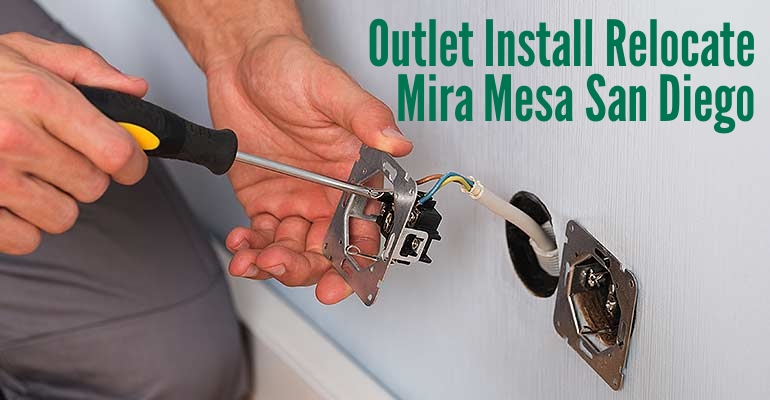 We install outlets throughout Mira Mesa San Diego inside of homes and businesses. Outlet installations are standard services that we get requested to provide. We can relocate, repair, replace, and install outlets throughout residential and commercial buildings. Our skilled electricians possess years of experience providing all aspects of the residential electrical services, including dimmer switches installation, lighting installation, recessed lighting, can lights, Panel upgrades, panel replacement, circuit breaker repair, breaker box install, and various other services. We keep our electricians trained on their newest techniques for electrical contractors and installing strategies for lighting fixtures.
How many outlets can I install in one room? 
This is a common question that we get. Most of the time, we advise no more than 8-10 lights per room, depending on how large that room is. For specific customers, specifically businesses, more outlets could be needed in particular places or outlets that have higher amp availability. For these situations, we have multiple options that we use to facilitate more than 8-10 outlets.
CLD Electric has knowledgeable electricians that can help with all home Lighting install!
Our experienced electricians over 50 years' experience providing lighting installation, repair, and replacement for the newest lighting, including recessed lights, can lights, lighting fixtures, and track waiting.  
Having your lighting installed by professional electricians not only makes the lights look more attractive after their installed, but it's safer. When you're dealing with electrical components, lighting fixtures, and light bulbs, you want to have these things installed by professionals who know what they're doing in that can ensure the safety of your home. If you have newer LED lights, we are skilled at installing and replacing old fluorescent lamps with newly updated lighting fixtures.
Why choose CLD Electric? 
At CLD Electric, we have over 50 years of experience combined installing, replacing, and repairing outlets, switches, lighting fixtures, panels, circuit breakers, and more. We have built our reputation for quality customer service, excellent electrical repair, and clear communication. Every customer is important to us, and treating each customer as the most valuable customer is an honest approach we take for each interaction we have. If you haven't already, we recommend you to read through our reviews. 
We look forward to the opportunity to earn your business. 
CLD Electric location is 5519 Clairemont Mesa Blvd. # 255 in San Diego, California 92117. CLD Electric phone is (619) 638-0228. CLD Electric hours are 8 am – 6 pm Monday through Friday. 10 am to 4 pm on Saturday. Please call to schedule appointments.