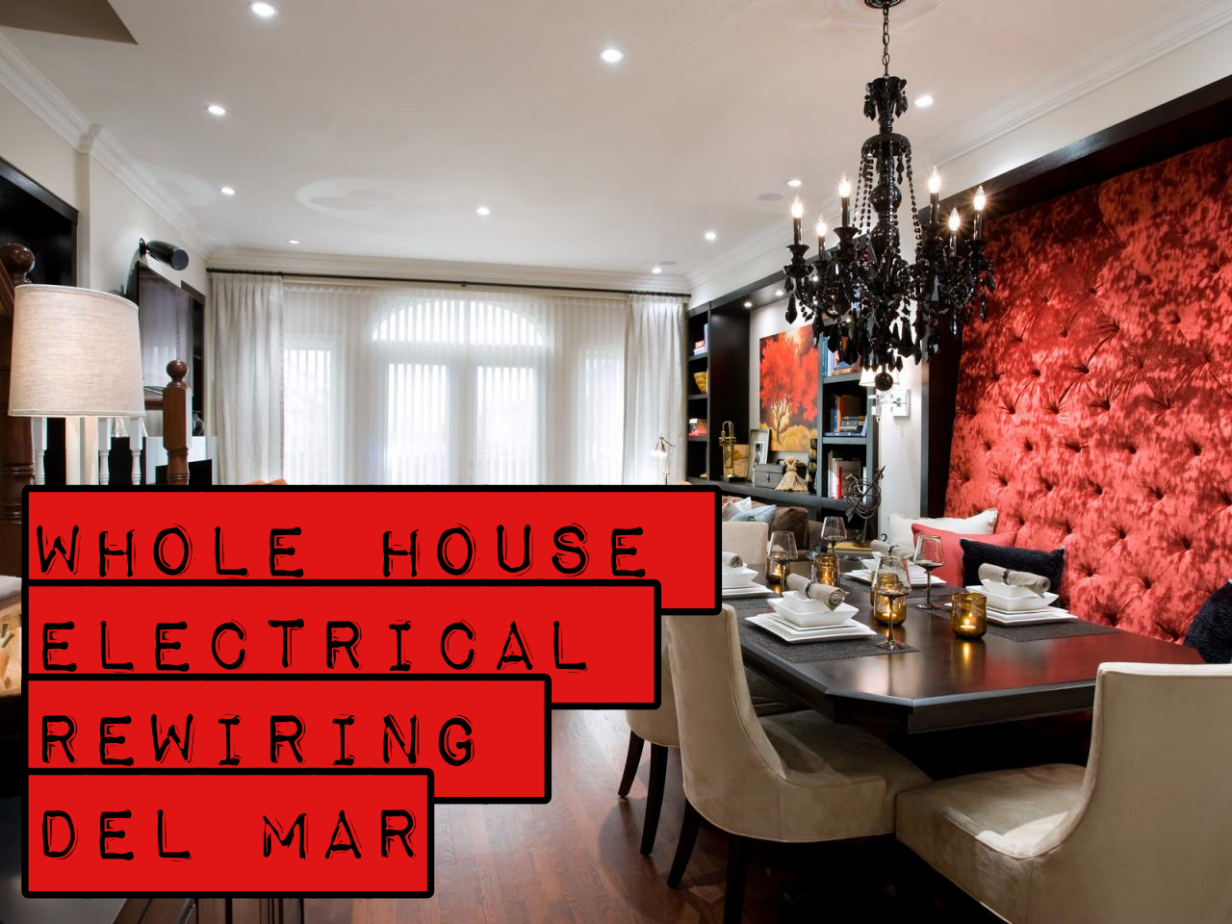 Del Mar California is headquarters to some of the most beautiful homes in the country. Behind some of those beautiful walls in some of those beautiful homes is inadequate wiring. This wiring poses a severe threat to the safety of these lovely homes. Electrical wiring often overlooked because you cannot see it. Although you cannot see it, it remains one of the most critical aspects of the home. A light goes on; A switch used, any time anything electrical related happens, the wiring throughout the house begins working and is in motion. Therefore, having adequate wiring and having it work throughout the home is crucial. An adequately wired home ensures the safety of all of your electrical components. Recently we helped rewire a house in Del Mar that was in the middle of a remodel. This home sold for over 4 million dollars in November of 2019. Going through the wiring and replacing it, we estimated it looks like the wiring install originally put in, in the mid-1980s. Electrical wiring that's 30 years old can have many problems with it, including exposures, leakages, and shorts. Making sure that your wiring is up-to-date and working is it must maintain a healthy house.
How long does a whole house rewire take?
A whole-home rewire can take a couple of days or several weeks, depending on multiple factors. These factors include how finished the remodel is, how effective the other contractors are (spacing). Lastly, how accessible your home is. If everything works out right, our electricians can have the entire house rewired in a couple of days, but if there are impediments and complications from contractors or permits, then things can take longer. Our management here at CLD Electric wants the services as fast as possible, provided on the customer's timeline.
Are your electricians licensed?
CLD Electric, our electricians and our company are a licensed electrical company in the state of California. We are also licensed to provide electrical services in San Diego through the county of San Diego. Our electrician's service all of San Diego, including North County, Del Mar, specifically including Oceanside, Carlsbad, Encinitas, Escondido, Solano Beach, Mira Mesa, Miramar, and La Jolla.
Why choose CLD Electric?
CLD Electric focused on being the best electrician in the San Diego Del Mar area since we started offering electrical service. We send our electricians to yearly training courses to keep them up-to-date and abreast of the newest electrical techniques and repair strategies. We are continuing our electricians with up to date the most modern electrical products and lighting systems to give our customers outstanding electric services. Keeping our electricians as informed as possible on all of the best techniques and latest products allows us to offer our customers better services than our competitors. We know that you have many options for top tier electricians in San Diego and Del Mar, and we believe we are the best of the bunch. We encourage you to read through our reviews and evaluate us based on what our customers have said.
CLD Electric location is 5519 Clairemont Mesa Blvd. # 255 in San Diego, California 92117. CLD Electric phone is (619) 638-0228. CLD Electric hours are 8 am – 6 pm Monday through Friday. 10 am to 4 pm on Saturday. Please call to schedule appointments.