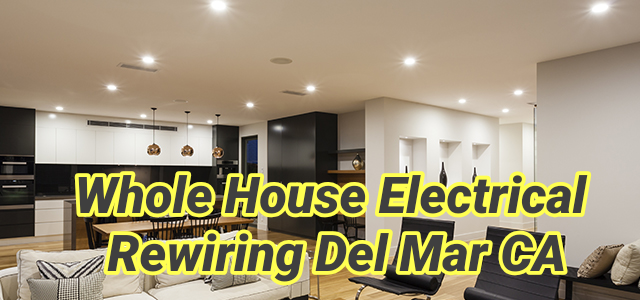 Happy New Year! From CLD Electric.
This year much like every other year, we've been working expanding and growing our services. These are exciting times for CLD Electric. Since we are taking advantage of the new technique and skills, our electricians have. Our focus this year while expanding our home electrical services includes whole house electrical rewiring in Del Mar California. Rewiring the entire home can be a challenging project if you're not working with a knowledgeable electrical contractor. Here at CLD Electric, we have worked on hundreds of the whole house rewires, and our experts understand completely rewiring any residents the entire home, and we can get your house perfectly rewired. We have worked on these skills and trained our electricians to be the best at whole home rewires since so many homes in San Diego and North County wired incorrectly. The list is endless on why you want your home correctly wired. At the top of that list is keeping your property and loved ones safe — moreover, having your home wired correctly will extend the life of your home and ensure that all electrical systems work correctly. Nobody and we mean nobody wants an electrical problem to turn into an emergency. High standards are why all of our electricians here at CLD Electric train and are certified to be excellent; we are a licensed electrical company in California.
Here at CLD Electric, we have worked diligently over the years to develop a stellar reputation for excellent electrical repair. Each one of our electricians has worked hard, helping us maintain our excellent reputation. We have different electrician's focused on various services here at CLD electric. We have different electricians focused on different functions because we want our best electricians who have experience in certain fields to be taking care of those specific services in those particular fields. This technique has allowed for CLD Electric to grow into the expanding business; you know it as today. If you haven't already, we encourage you to read through some of our views and evaluate us based on what our customers have said. We believe that the review system is an effective way of assessing how well we do business.
Our residential electricians are skilled at all things electrical repairs inside the home, including outlet repair, dimmer switch installation, switch replacement, lighting fixtures, canned lighting, to name a few. Other installation services include recessed lights, ceiling fan installation, whole-home rewires, wiring, circuit breaker repair, panel upgrades, and replacements. No matter what kind of electrical services you need to have completed around the home, our skilled electricians here at CLD Electric have years of experience and training to make sure that you get the job done correctly.
CLD Electric location is at 5519 Clairemont Mesa Blvd. # 255 in San Diego, California 92117. CLD Electric phone is (619) 638-0228. CLD Electric hours are 8 am – 6 pm Monday through Friday. 10 am to 4 pm on Saturday. Please call to schedule appointments.
Whole House Electrical Rewiring Del Mar CA Electrician San Diego Repair Circuit Breaker Replacement Panel Residential Electrical Contractor Services