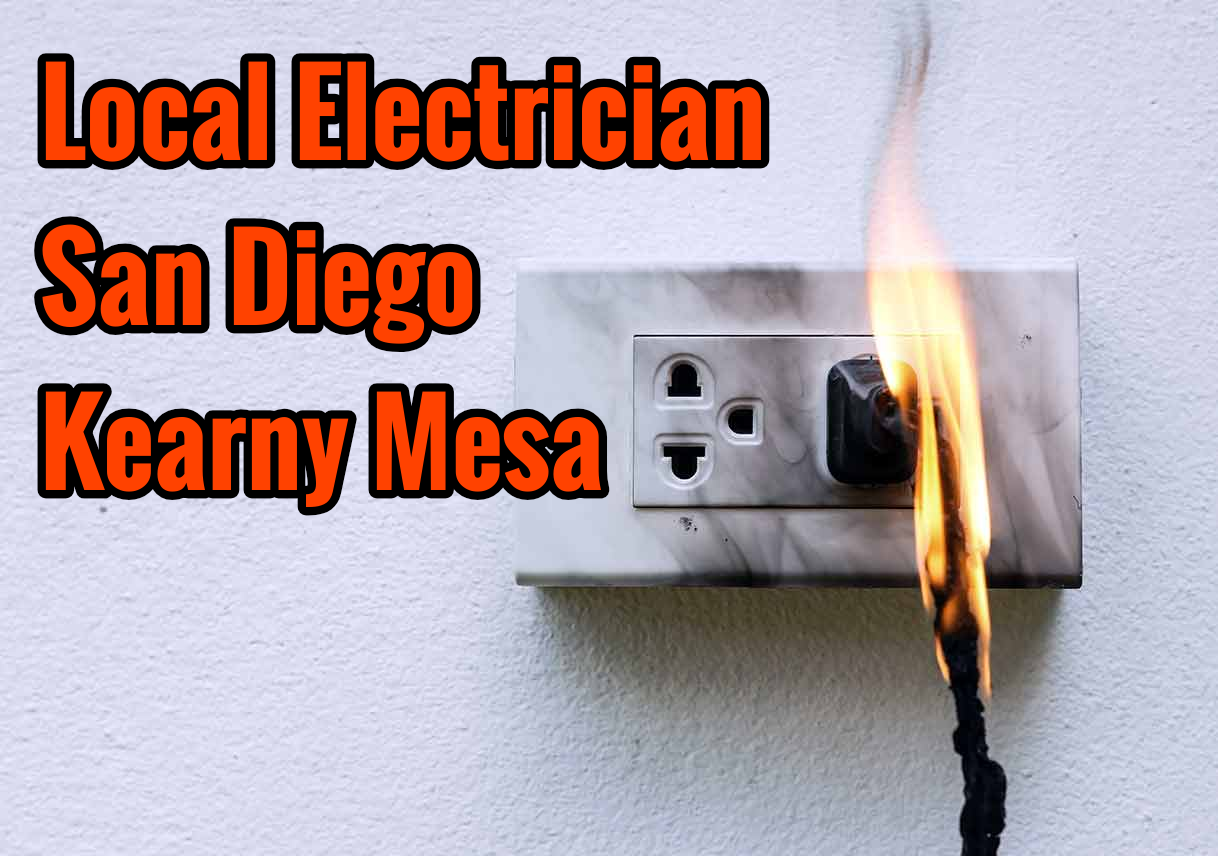 Getting the right local San Diego electrician in Kearny Mesa can be a challenging endeavor. You want to pick the right electrical contractor to come into your home and fix your electrical wiring. We know that you have many options for top electricians in San Diego, CA, and we appreciate you taking some time to evaluate us. It is through hard work, clear communication, and excellent customer service that we have developed our excellent reputation here at CLD electric.
Each day we go out, we aim to provide the very best in electrical repair, installation, and upgrades. Since opening our doors, our goal has been to become the best electrician in San Diego. We know that this is no easy task and that being the best means having excellent customer service, quality \ logical skills, and clear communication. These three principles are what we base our entire business around here at CLD Electric. Having excellent customer service, terrific electrical repair, and installs, along with having clear communication, puts us in the running to be the best electrician in San Diego every day the year. 
Our electrician's service all of San Diego North County, including Carlsbad, Oceanside, Encinitas, La Jolla, Del Mar, Kearny Mesa, Mira Mesa, Miramar, Poway, Scripps Ranch. Our electricians provide residential home services including 
Outlet installation
If you have an outlet on a circuit that blows the breaker or fuse often, it's not a good idea to add another outlet to the same circuit.
Electrical codes get implemented on the number of lights/electrical outlets that remain connected to a single circuit. Generally, you can only have eight lights/electrical outlets on a 15 amp circuit.
For kitchens and bathrooms, we keep those on separate 20-amp GFCI circuits. Every outlet we install in a kitchen or bath is GFCI protected.
Recessed Lighting 
Almost all recessed lighting is just as the name sounds, recessed inside of the ceiling. This type of lighting is a terrific option for bright light inside hallways, bedrooms, and offices. 
The assortment of recessed light housings is extensive with decorative lighting trims that accent the light nicely. Installing recessed lighting is an excellent option for new construction or remodels. 
We have a wide range of options for lamping options with LED & Fluorescent replacement with other options. 
Wiring
It can be complicated trying to identify which wire and cables are going through the inner workings of your home. Our skilled electrical contractors can help navigate these difficult times. Cable and wiring get used in the same terminology. These are not the same products, though. The cable is in a single jacket with an assembly of two or more wires. You'll find wiring inside the jacket as well, but with insulated or bare conductors. 
Wire gauge is another factor our skilled electricians know how to manage. Depending on the amperage of the circuit, you'll find different sizing and gauges.
Rewiring
Especially older homes, replacing dated wiring will make your home safer & allow for more efficient appliances. The newer modern appliances use more beefed up wiring systems that older homes don't have. Rewiring can help run heavy-duty cables to these newer appliances. 
Removing old wiring can be a challenge if you've never done this before, you want to leave it to the professionals. Pulling out electrical wiring through your home can expose wiring problems you want a licensed electrician managing. If the circuits stay on while the rewiring is taking place, serious injury can incur. 
Electrical Panel Replacement 
The electrical panel manages the electricity coming into your house. If you overload the power on a circuit, that circuit breaker gets "tripped" and shut off in the electrical panel to kill any electricity from overloading the electrical wiring. An overload can be severe, including fire. This danger is shielded by the electrical panel, executing the circuit, and managing the electricity throughout the system, keeping your home safe.
Circuit Breaker Repair
Each year circuit breakers get put to the test with our homes adding more devices, computers, appliances. Keeping your circuit breakers up to date and working will help maintain the health of your home. If your circuit breakers are out of date and need repairing, CLD Electric can help restore your circuits. 
Ceiling Fan Installation 
More and more customers ask us to install ceiling fans throughout their homes in San Diego. Homeowners are finding the year-round benefits to having a ceiling fan installed in their homes. During the summer, with the windows opened or closed, the ceiling fan can be a pleasant addition to any time of the day. During the winter, if the heater is on, the ceiling fan can help circulate the air and keep the entire room warm.
Our electricians do it all. We send our electricians to yearly training courses to keep them informed on the latest techniques and strategies for installing new products that are just hitting the market now. If you're looking at having new LED lights put in your home, we encourage you to give us a call. Our electricians have great ideas about different LED tactics to use inside your home.
CLD Electric location is 5519 Clairemont Mesa Blvd. # 255 in San Diego, California 92117. CLD Electric phone is (619) 638-0228. CLD Electric hours are 8 am – 6 pm Monday through Friday. 10 am to 4 pm on Saturday. Please call to schedule appointments.
Local Electrician San Diego Kearny Mesa Electrical Contractor Whole Home Rewire Panel Replacement Repair Installation Lighting Recessed Can California