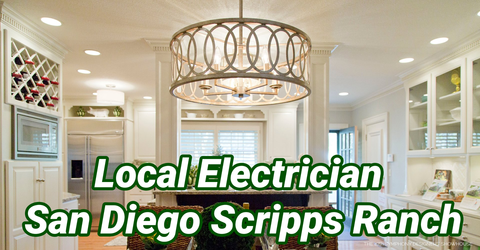 When you go searching for a local electrician San Diego Scripps Ranch, you might be looking for a simple wiring replacement or outlet repaired, but you could also be looking for a bigger job like a panel upgrade with a whole home rewire. Regardless of what kind of electrical service you're searching for big or small, CLD electric and our skilled electricians know how to handle everything electrical related in your home.
Here at CLD Electric, we hold our electricians to a high standard of quality to ensure that our customers get the best electrical service available to them in Southern California. We know that you have many options for top tier electricians in San Diego and North County, and we appreciate you taking some time to evaluate our business. Since we opened our doors, we have been working diligently to build a stellar reputation for excellent electrical repairs in Southern California. Our goal is and has been to be the best electrician in San Diego. We know that this is no easy feat and that it takes every electrician we have given 100% every day of the year to accomplish this. We encourage you to give us a call and evaluate us on our customer's service and communication. Simultaneously we encourage you to read through our reviews and assess us based on what our customers have said about our service.
We have worked diligently over the years to develop a stellar reputation, and that's what we have received each time our customers go to give us a review. Our electricians offer all residential electrical services, including outlet repair, dimmer switches, switch replacement, ceiling fan installation, wires, rewires. In addition to those services, our electricians offer panel upgrades, panel replacement, circuit breaker repair, lighting installation, fixture replacement, can lights, recessed lighting. No matter what kind of lighting fixture or lighting apparatus you have, our skilled electricians are sure to be able to install it inside your home. If getting the best services is important to you, then we encourage you to give us a call immediately so that we can demonstrate what our version of best is to you — our electrician's service all of San Diego County.
CLD Electric provides residential services in North County cities, including Carlsbad, Oceanside, Encinitas, La Jolla, Del Mar, Mira Mesa, University City, Miramar, Kearny Mesa. No matter where you are in San Diego / North county, we will come to provide residential electrical repairs and installation. For your convenience, we have multiple teams situated throughout the area to ensure fast response times and quality service work. One group is in Oceanside, a neighborhood service offering lighting installation and repairs. Another team situated in Poway focuses on residential electrical repairs, and home rewires. Our electricians in La Jolla / Del Mar train at keeping our customers on the coast with excellent electrical services and the newest electrical panels available. Lastly, our core electrical contractors in San Diego, providing commercial and industrial repairs and upgrades while overseeing all residential work.
CLD Electric location is at 5519 Clairemont Mesa Blvd. # 255 in San Diego, California 92117. CLD Electric phone is (619) 638-0228. CLD Electric hours are 8 am – 6 pm Monday through Friday. 10 am to 4 pm on Saturday. Please call to schedule appointments.
Local Electrician San Diego Scripps Ranch Electrical Contractor CA Residential Home House Rewire Wire Switches Panels Repair Replacement Services