Electrical Troubleshooting Solana Beach CA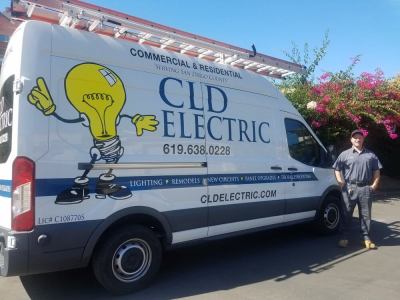 Our electrical contracting company offers professional electrical services to residents and business owners in the Solana Beach area. There is a CLD Electric electrician in your area right now! We can provide you with expert electrical services from EV charger installations to basic service calls. If you have having any issues with the electrical in your home, give us a call to get on schedule!
Call Us Today!
Contact Us Today!
Solana Beach Electrical Services
Our electricians are proud to offer Solana Beach residents and business owners with fast electrical estimates. If you want to add a car charger or update your lighting, give us a call to get on schedule. The electricians who work at CLD Electric are experts in their field and can help with any issue. We would be happy to help you with your next electrical project!
Electrical Services in Solana Beach
Electrical Service for Property Managers by Solana Beach Electrician
Our company knows property management. We understand that there are time, budget, and staffing constraints that property management teams face when getting repairs done. We have the knowledge and expertise property managers can rely on.
What types of services do we offer property managers? We offer a wide variety of services to property managers to keep their properties up and running. Below is a short list of some of the services we offer:
Emergency lighting
Lamp and ballast replacement
Troubleshooting and repair
Flat screen receptacles
Lighting installation and replacment
Why can't I just get a handyman? A handyman can help with smaller issues but a licensed, bonded, and insured electrician can handle larger jobs in a quicker manner.
Local Electricians Provide Quick Service
Look no further than CLD Electric for your next electrician. We are here to help with your next electrical project. All our electricians are experts in their field and offer quick service response times. Locally owned and operated, CLD Electric knows how to make you feel like one of the family and not just another number on an invoice. We are proud to offer discounts to senior citizens and military members. You can also get an estimate on new work. Give us a call when you're ready to start your next electrical project!
Recent Blog Posts