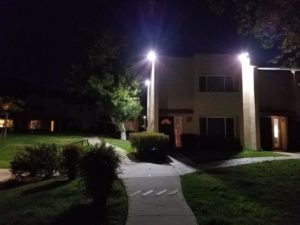 Outdoor lighting can transform your space in the most beautiful way. Regardless of if you are installing outdoor lighting fixtures in San Diego for security or not, you can still get creative and let proper lighting make all the difference. An electrician in San Diego can help with your outdoor lighting installation.
Types of outdoor lighting fixtures
There's no shortage of options with outdoor lighting fixtures in San Diego. Each type has its own long list of diverse designs to choose from. Depending on what you want, you can opt for these and more;
Wall lights
Flush mounts
Post lighting
String lights
Security lights
Outdoor lanterns
Hanging lights
Step lights
Types of outdoor lighting by location
Entryway lights – Entryway lights are located at the entrance to your home. You can find entryway lights on the front porch or around the front door. The best types of outdoor fixtures for your entryway lighting in San Diego include wall lights, hanging lights, and flush mounts.
Walkway lights – You don't want to trip in your walkway or have guests trip either. With the right outdoor lighting fixtures, you can transform your walkway and provide magical illumination. Consider step lights, post lights, and pathway lights for the walkway.
Porch and Patio lights – Nothing sets the mood like lighting in your outdoor porch or patio. These locations are excellent for relaxing or entertaining guests. Some of the best proper lighting fixtures for the patio and outdoor porch include string lights, lanterns, and hanging lights.
Garage lights – Garage lights are lights used to light up your garage. You can opt for security lights or more stylish options depending on what you want. Examples of possible garage lights are wall lights and security lights with dusk to dawn sensor features.
Landscape lights – Landscape lighting are targeted at showing off your home or highlighting areas you want highlighted. You can consider fixtures like pool lights or spot lights depending on your need.
Outdoor lighting features
Choosing the best outdoor lighting fixtures can be tough because of the various options available. However, there are some key features that set outdoor lighting apart and can help you make a great choice.
Some of those features include;
LED integrated lights – LED lights are great because they reduce energy usage. If you are looking to save energy on outdoor lighting, this is an excellent option.
Solar power – Another energy saving and green option are outdoor light fixtures using solar power. These lights are easy to install and should be placed in the best position to receive direct sunlight.
Motion sensor – Just as it sounds, motion sensor lights automatically turn on when motion is detected. The lights also go off when the motion can no longer be detected. Motion sensor features are mostly incorporated in security lights or garage lights.
Dusk to Dawn lights – If you often forget to turn your outdoor lights on and off, this dusk to dawn feature will work well for you. These lights save energy and only come on when they are needed at night.