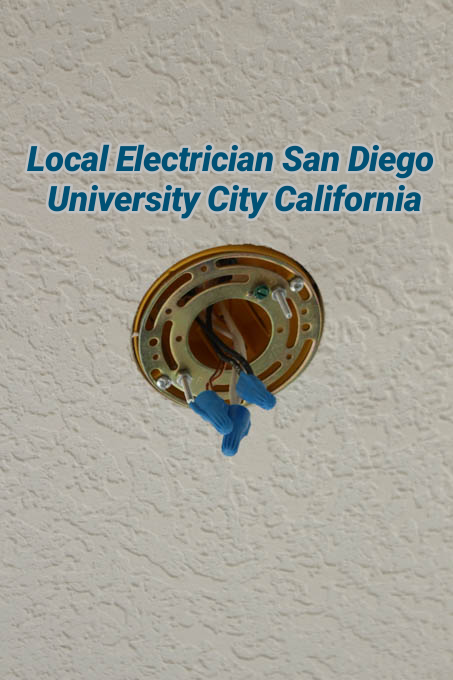 At CLD Electric, we are your best option for a local electrician San Diego University City, California. We have stayed focused over the years at providing the best in electrical repair services for residential homeowners in San Diego County. CLD Electric services all of San Diego, including North county Carlsbad, Oceanside, Escondido, Encinitas, La Jolla, Del Mar, University City, Mira Mesa, Kearny Mesa, Poway, and Scripps Ranch.
No matter where you are in North County San Diego, our electricians will provide electrical repairs and installs. Our electricians have over 50 years' experience with all aspects of the electrical services including outlet installation, dimmer switches, light switches, lighting fixture installation, canned lighting replacement, recessed lighting install, wires, rewires, ceiling fan installation, panel replacement repair, subpanel install, circuit breaker repair. If you're looking for security lighting or patio lighting our skilled electricians know how to accomplish those for you. Since we opened our doors here at CLD Electric it has been our aim to be the best electrician and San Diego.
We know that you have many options for excellent electricians in San Diego and we appreciate you taking some time to evaluate CLD electric. We believe it's through our superb customer service, quality electrical services, and stellar communication that makes us the best in San Diego. It's through our efforts and desire to provide the best in electrical services and raise the standard for electricians in San Diego, California. Providing the best electrical repair isn't always easy, but we know it's the right thing to do. Putting our customers in front of everything else and making sure that they are the number one priority through everything we do.
CLD Electric location is at 5519 Clairemont Mesa Blvd. # 255 in San Diego, California 92117. CLD Electric phone is (619) 638-0228. CLD Electric hours are 8 am – 6 pm Monday through Friday. 10 am to 4 pm on Saturday. Please call to schedule appointments.