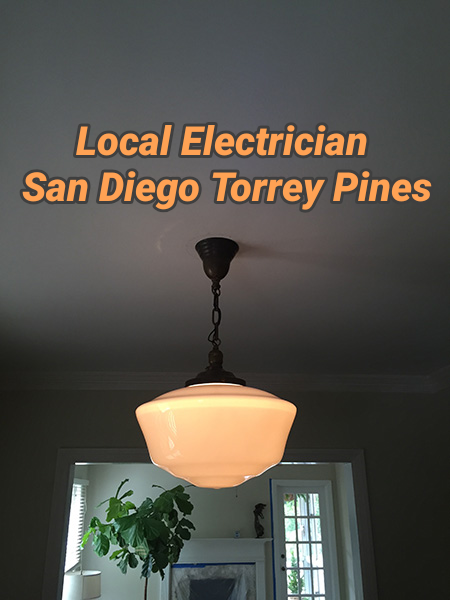 CLD Electric is your best option for a local electrician San Diego Torrey Pines. Our skilled electrician's service all of San Diego, including Torrey Pines, Del Mar, Oceanside, Carlsbad, Encinitas, Escondido, University City, Mira Mesa, La Jolla, Miramar, Kearny Mesa, Poway, Scripps ranch. At CLD Electric, our skilled electricians have over 50 years' experience providing residential electrical services, including outlet installation, dimmer switches, light switches, wires, rewires, lighting fixture installation. Also, those services our electrical contractors install can lighting replacement, recessed lighting install, panel replacement, subpanel upgrades, circuit breaker repair, ceiling fan installation, and repair. These are just some are the services that we offer throughout the San Diego area.
Our entire organization sets out every day to be the best electrician in San Diego California. We have made this our goal through hard work, dedication, and excellent customer service. We know that you have many options for excellent electricians in San Diego and we appreciate you taking some time to evaluate CLD Electric. We believe that if we continue to work diligently, focus on providing the best customer service, and electrical repairs at the best rate that we will accomplish our goal.
Recently we helped a customer in Torrey Pines install a Large 48″ inch ceiling fan in their patio. These large ceiling patio fans are an excellent upgrade, also a nice way of moving the air. If you haven't read through our reviews, we encourage you to go check them out and see what our customers are saying about us. We believe that through excellent customer service, our customers have spoken loud and clear about how they feel about our service and electricians.
CLD Electric location is 5519 Clairemont Mesa Blvd. # 255 in San Diego, California 92117. CLD Electric phone is (619) 638-0228. CLD Electric hours are 8 am – 6 pm Monday through Friday. 10 am to 4 pm on Saturday. Please call to schedule appointments.