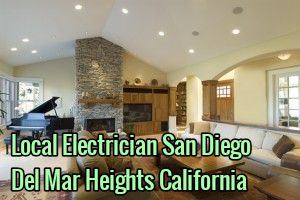 CLD Electric aims to be the best residential electrician in San Diego. We have made this our goal since our inception. Providing the absolute best residential electrical services is a challenge. We know you have many options for different electricians in San Diego CA and we appreciate you evaluating CLD Electric. We offer every residential electrical service you can imagine from outlet installation, lighting fixture replacement & installation, dimmer switches, switches, panels, sub panel replacement, circuit breaker repair & replacement, ceiling fan installation, wires, rewires, security lighting, patio lighting, office lighting, LED lighting installed. We will provide any job large or small. We are locally and family owned. CLD Electric services all of San Diego including North county with Oceanside, Carlsbad, Encinitas, La Jolla, Mira Mesa, Kearney Mesa, University City, Poway, and Scripps Ranch.
If you're searching around for different electricians to help you install some new lights or do some basic electrical work around the house, we would really appreciate you giving CLD Electric a call and giving us an opportunity to earn your business. We have sent our electricians to training courses to enhance their techniques and inform them better on newer technologies. Making sure our electricians are always up to date on the latest technology is a huge asset to our customers. With our customers constantly throwing us curve balls on different electrical services to install, new lights to replace, and new LED to transform staying up to date on the newest products helps us remain knowledgeable in all our electrical services. We hope that if you're looking for the best electrician in San Diego you give CLD Electric a chance to show you that we are the best around.
CLD Electric is located at 5519 Clairemont Mesa Blvd. # 255 in San Diego, California 92117. CLD Electric phone is (619) 638-0228. CLD Electric hours are 8 am – 6 pm Monday through Friday. 10 am to 4 pm on Saturday. Please call to schedule appointments.