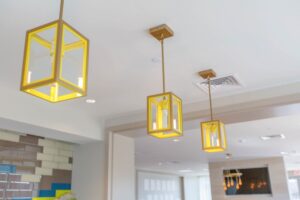 Thinking of installing a ceiling light, or maybe another light fixture? Then you need to call in a professional electrician. This might end up costing you about $80 to $200, but in the end, you will find the service is worth the price.
Electricians usually split their costs into two categories;
Ø Cost of supplies: this is the cost of the materials that will be required while installing your ceiling light. While this may include the cost of screws, wires, and so on, the price of the light fixture is not added here.
Ø Cost of labor: this is the cost of the electrician's services. Depending on the circumstances surrounding the job, location, and company, this cost may vary.
In most cases, your electrician's quote depends on some factors, including
Whether or not wiring is already available. If you have pre-installed wires, then you can expect lower costs.
What condition is the wiring in? If the wires are in bad shape or not easily accessible, then your costs might go up.
How old your home is. Older homes usually have faulty wiring or substandard wiring. This will definitely push up your price.
While installing a light fixture seems like a simple job, it is not. Any electrical job is a potential electrical hazard. Such jobs are best left to professional electricians.
To get the best value for your money, you should schedule most or all of your installations, upgrades, or repairs into one visit. This way, you end up paying less for more rather than having to split the costs across several calls.
Also, ensure that you order fixtures that are well-matched with your house's electrical wiring. If you have no idea how to do this, consult the electrician you plan to hire.
Choosing the right electrician for you.
We know that there could be lots of electricians near you. This often makes picking the right electrician more complicated than it has to be. But with these simple steps, you can choose the best electrician for you.
Make sure to get quotes from as many electricians as possible. Ignore all quotes that are too pricey or too cheap.
Confirm that the electrician has a license. You can do this by asking for a copy of their license or asking for their license number to confirm with the labor department.
Conduct background research. It is best if the electrician has reviews from someone who has used their services before. You should also confirm the service's rating from the Better Business Bureau.
Make sure that all the required permits and documents are in order.
Confirm if the electrician has liability insurance. This protects you and your home in the event of an unexpected accident. Basically, if they get hurt on the job, make sure they have insurance to cover them.
To get the best service, only hire electricians that have experience installing ceiling lights. Depending on the design of your home, this might involve some climbing or the use of a lift. So get a professional electrician with the right experience.