Electrical Estimates in Encinitas CA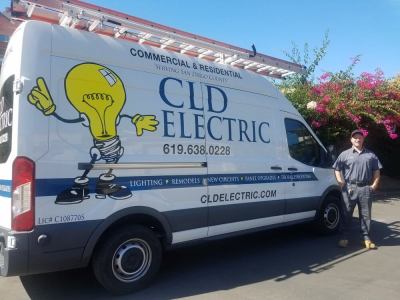 Our company, CLD Electric, offers expert electrical services to residents and business owners in Encinitas. We have electricians in the area to perform your electrical job. The electricians at CLD Electric are able to provide you with a fast electrical estimate on any new work. Our vans are driving around the area daily, so give us a call!
Call Us Today!
Contact Us Today!
Electrical Troubleshooting in Encinitas
Troubleshooting electrical issues is a big part about being an electrician. Most of our jobs include troubleshooting things not working. If you are experiencing an issue in your Encinitas home or workplace, an electrician might need to be dispatched to troubleshoot to see what's going on. If there are no signs of damage, it can be very difficult to know what the problem is. This is why it is important to call an electrician, like those at CLD Electric, to come out and take a look.
Electrical Services in Encinitas
Panel Upgrade by Encinitas Electrician
Get the expert advice you need for your electrical job by calling the electricians at CLD Electric. Our electricians are out in the city of Encinitas performing panel upgrades on homes and businesses like your own. We are standing by waiting for your call! Get on schedule to day!
What does it mean to upgrade my panel? When you upgrade your panel it means that your are upgrading your electrical system so that you can use more power in your home or business. Older homes usually only allow from 60 to 100 amps while some homes today might require up to 200 amps. An electrician at CLD Electric can help you determine if you need a panel upgrade.
How do I know if I need a panel upgrade? There are some signs to look for to help determine whether or not you need to upgrade your panel. If your panel is overloaded you might experience brownouts or lights dimming when turning on and off appliances and lights. If you notice that your fuses are tripping more frequently, it may be time to upgrade your panel. If you are unsure whether or not you need a panel upgrade, just give us a call!
Local, Expert Electricians
You may think hiring an electrician is just that but it can be so much more. When you hire an electrician you are entrusting them to come into your home or business to fix a serious issue. You need to be sure you are getting the best services in town. Our company is locally owned and locally operated. We know how important it is to get your electrical job done and done right. We offer fast estimates and discounts to senior citizens and military members. Stay local – we will treat you like family! Give us a call today to get on schedule!
Recent Blog Posts