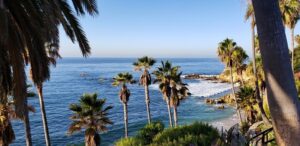 San Diego is known for a lot of amazing things, including its warm weather, great beaches, museums, shopping locations, fine dining, and a host of exciting activities. It is a great place to visit if you need to unwind and have loads of fun activities.
For example, on San Diego beaches, you could go kayaking, snorkeling, surfing, scuba diving, and so on. But the fun you get depends on what San Diego beach you visit.
Here are some of the best San Diego beaches you should check out:
Moonlight Beach
Moonlight Beach is a great beach location if you would love to spend some time with your family, especially as a parent. It offers nicely groomed areas for snacks, volleyball, basketball, restrooms, and a snack bar.

Parents can relax but also have fun with their kids, playing with or watching them play close to the water. There are nice paid parking areas, but if you're on a budget, you could opt for street parking. In the evening, you can head out to get dinner in the city at a beautiful restaurant.

La Jolla Cove Beach

La Jolla Cove beach is one of the most popular and most beautiful beaches in San Diego, situated close to Ellen Browning Scripps Park. There is a rocky point that shelters the beach from the rolling waves and makes it safe enough for swimming.

If you're interested in wildlife, then you will find beautiful animals and birds along the bluffs; animals like birds and seals are the most common. You will need to be at the beach on time if you'll need a parking spot.

Del Mar City Beach

Got kids and a dog? Del Mar City Beach is the ideal beach for you because it is family-friendly and dog-friendly. On the south side of the beach, you will find tidal pools and cliffs that give a rustic vibe. These cliffs require that you are careful because of their treacherous trails. There is also a dirt path that is perfect for hiking or jogging.

On the Northside is a dog-friendly environment where your dog does not miss out on the fun too.

If you intend to have a picnic, a birthday hangout, a wedding, or any other social gathering, there are two parks on 15th street; Seagrove and Powerhouse Park with ample space to have a gathering.

South Mission Beach

At the Mission Beach Peninsula's South end is the South Mission beach, wide and usually crowded. Because of its size, it's one of the best places in the city to have a fun game of basketball or volleyball with your friends and family.

Ocean Beach City Beach

Ocean Beach City beach offers a satisfying beach experience. Located at San Diego River mouth's south side, the wide and sandy beach allows for sunbathing, swimming, surfing, or playing a sports game. There is also a long pier on the beach that gives a breathtaking view of the city and lets you fish without a license. So, if you would love to fish, this is the ideal beach for you.
And as always, if you're looking for a San Diego electrician, do not hesitate to give us a call!