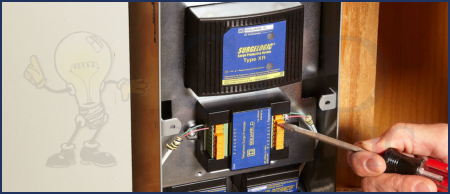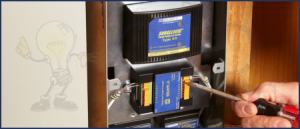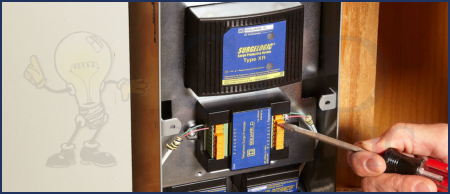 Electricity is such an important part of our household that it is remiss to think of the things we could do without it. From powering up appliances to lighting, its uses are limitless. However, certain things can affect the flow of electricity and that could lead to some dangerous situations. Excess or a lack of constant electrical current could lead to faulty appliances, and overheated outlets, and could also start household fires if left unchecked.
A surge protector can protect your home from being affected by surges in electrical current caused by lightning. Since electricity follows the path of less resistance, surge protectors create a different pathway for the excess electrical current to food safety to the ground leaving home and appliances unharmed.
Types of Surge Protectors
There are two types of surge protectors and getting either would depend solely on your needs.
Each one has distinct uses and purposes but both are effective and wise investments. Point-of-use surge protectors are regular plugin protectors that safeguard single appliances in the home. They protect single household appliances and help prevent in-house electrical problems from affecting household appliances. Whole house surge protectors, on the other hand, can protect your entire household from power spikes and surges. They are installed by a professional electrician at your electrical panel or meter.
Are Whole House Surges Worth It?
If you constantly get power surges caused by lightning that lead to a lot of household damages and unplanned expenses, then you should get a whole house surge protector. During the rainy seasons, lightning strikes become frequent and unplanned. The best way to safeguard you and your home is to get a whole-house surge protector.
However, a whole house surge protector may not be able to protect your appliances from other electrical problems that aren't caused by power surges or spikes. If you want to protect your appliances from overheated outlets and faulty wiring, the best option would be to get a point-of-use surge protector.
It is advised to get both point-of-use surge protectors and whole-house surge protectors. Their uses are different and they are both efficient. Besides, who's going to say no to double protection?
While considering getting a whole house surge protector, you may also want to conduct a full inspection of your property. This would help you weed out any underlying electrical problems you may not know of and fasten the repairs. Fixing up electrical problems the moment they're detected would save you from a mountain of problems later on.
Do not forget that your electrical system is as complicated as it looks and you should consider professional assistance with all things relating to it. When treated carelessly, even more, electrical problems may arise and we know you wouldn't want that. Get a professional electrician to install your whole house surge protector for you.
CLD Electric of San Diego is the best option for installing a Whole House Surge Protector because of their expertise and experience in electrical work. They use high-quality products and equipment to ensure maximum protection for your home and its electrical appliances. Their technicians are highly trained and knowledgeable, providing expert installation services. CLD Electric is dedicated to providing excellent customer service, ensuring that all questions and concerns are addressed promptly. They offer competitive pricing and a warranty on their workmanship, making them a reliable and cost-effective choice for protecting your home from power surges. Trust CLD Electric to keep your home and family safe and secure.
CLD Electric - San Diego
Average rating:
0 reviews