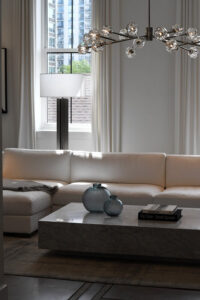 Getting a chandelier is one sure way to lighten up your home with color display and elegance. However, despite the illustrious glamour a chandelier gives to your living space, there is also the question of finding the right professional to hang one. This is, of course, because of the complexities associated with such a brilliant lighting accessory.
In this post, we'll talk about who's the right person to put up your chandelier and whether you should do it yourself.
To hang your chandelier, you should hire a professional electrician. The installation of chandeliers comes with several peculiarities that must be taken into consideration, such as the size, height of the ceiling, weight of the chandelier, repair or replacement of existing chandeliers, and power check and bracing, etc.
Therefore, your best bet is to go for an expert electrician or electrical company for a professional service.
Chandelier Installation
You might be able to do the work yourself if you intend to replace a faulty or outdated chandelier with a new one. However, if you're installing a chandelier where one didn't previously exist, you'll need to hire an electrician. Especially if any of the wiring leading to the chandelier is old or needs to be replaced, you'll need to hire a professional and licensed electrician.
Cost Of Installing A New Chandelier
How much you spend to install a chandelier is determined by the chandelier's weight, size, the state of the wiring, the difficulty of installation, and whether you're replacing an old chandelier or installing a new one.
Also, don't forget the ceiling height, as it would determine whether a support system is required to support the chandelier's weight, and lastly, the labor rate of the electrician.
To replace an outdated chandelier with a new one, most electricians charge between $100 and $200. The cost of installing a new chandelier, if one is not already present, goes around the price of $300 to $2,000, largely depending on the personnel and other factors earlier highlighted.
Reasons To Hire An Electrician
You're putting up a chandelier in a room that doesn't have any light fixtures or chandeliers.
Your home's wiring is outdated and has to be replaced.
The chandelier is either too heavy or too enormous to be properly handled.
You don't know how to install the chandelier because it needs more support.
You don't have a lot of experience with do-it-yourself projects.