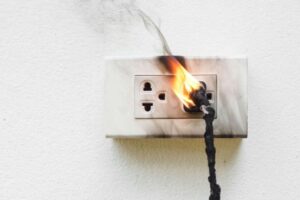 A house rewire is one of the most common projects for both old and new houses. While the overall process is the same, each rewiring job is unique.
Keep reading if you're looking for a reliable guide for a Temecula house rewire.
Who should rewire my Temecula home?
Your best choice will be a licensed electrician in Temecula. There are several reasons this is much better than using a handyman, cheap unlicensed electrician, or even DIYing it. A professional electrician has the experience needed to complete your rewiring project regardless of its unique nature. Their license and other certifications also keep you safe should anything go wrong while the contractor is working in your home.
A reputable licensed electrician is also transparent and certain to give you a quality service that saves you money and stress in the long run.
Also, since you'll require a licensed contractor to pull a permit, hiring one will save you the hassle and legal trouble involved with rewiring a home yourself or with a less qualified person.
How much does a Temecula house rewire cost?
When it comes to the quote or fee for house rewiring in Temecula, there's no specific price. The quotes differ based on dozens of factors and what's involved in your job.
These factors include;
The average labor costs to hire an electrician in Temecula
Entire project costs including surface preparation, components, machinery, and cleanup fees.
The average cost of materials and equipment for rewiring in Temecula
Permits required for electrical rewiring projects
Materials and supply sales taxes
Inspection and/or building fees
Any general contractor fees relevant to the project
Size of your home
Scope of work
If we are considering just the average labor costs to hire an electrician in Temecula and entire project costs for materials and other things, the average cost that homeowners have paid for a rewiring service in Temecula is between $115 and $920.
Remember that this estimate does not include most of the factors. If all factors are considered, the cost could run up to thousands. It's why most homeowners dread a rewiring service.
How long will my rewiring project take?
While you may be eager to get back to your normal life and enjoying the fascinating tourist destination that is Temecula city, the project might take several days.
Again, there are a few factors that affect how fast the project moves. They include;
Size of your home
Scope of work
Will you be staying in the home, or will the home be vacant?
How many contractors are on your electrician's team?
And so on.
However, once you've discussed with your electrician and started the contract, he should be able to tell you how long the work would take.
If you are DIYing it will take almost double the ideal time.
What changes can be made in my rewiring project?
The good thing about rewiring your home when you should is that it lets you change your electrical system. Apart from getting new wiring, you can upgrade your electrical panel, include future-proof wiring, and so on. Simply discuss with your Temecula electrician.