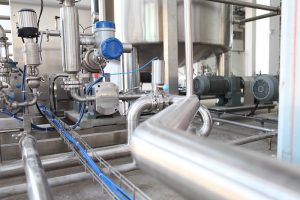 When you hear the word 'Electrician' it's reasonable to think one electrician can do it all. But when you are a business owner or industry manager, you quickly learn there are types of electricians, each unique in their roles. An industrial electrician is often confused with a commercial electrician, but they are more different than similar.
Industrial electrical works are electrical tasks that occur within an industry. Industries are often in need of a reliable electrical system to ensure operational efficiency. They also require prompt services to faults or defective electrical components.
An industrial electrician is someone with the experience and skill to provide the smooth electrical system needed for industries. They have extended and specific education with several years of apprenticeship to establish their knowledge and accuracy in the field.
Industrial electricians must handle anything from high voltage systems to direct microcurrents of electricity. A minor mistake in commercial and residential power can be corrected quickly, but in an industrial setting, an error can be extremely costly to production, development systems, and information systems.
Main Industrial Electrical Works Carried Out by an Industrial Electrician
Reading and interpreting blueprints, schematics, and electrical codes.

Installation, examination, replacement, and repair of receptacles, switch boxes, electrical wiring, conduits, feeders, lighting fixtures, and more.

Testing of electrical equipment for continuity, voltage, and resistance.

Maintenance, repair, and installation of switchboard meters, regulators, reactors, alternators, generators, storage batteries, and more.

Troubleshooting services.

Conducting maintenance programs and keeping maintenance records.
Qualifications of an Industrial Electrician
A high school diploma

Trade certification gained from a four to five-year apprenticeship program and college or industry courses in electrical equipment.

Additional certification depending on state or country.
Industrial electricians employed by electrical contractors work across industries such as construction, paper manufacturing, metal manufacturing, mining, transportation, warehousing, wood product, vehicle manufacturing, and food production.
Getting the best services for your industrial electrical work. 
It is as easy as calling on us for your electrical needs. At CLD Electric, we know that time is money, and the efficiency of your industrial electrical system is a top priority. We offer you licensed and experienced professionals dedicated to your peace of mind and providing valuable service. We are skilled in all industrial tasks and respond promptly to your needs. You can always depend on us to contribute immensely to the smooth running of your industry.