Free Electrical Estimates in Vista CA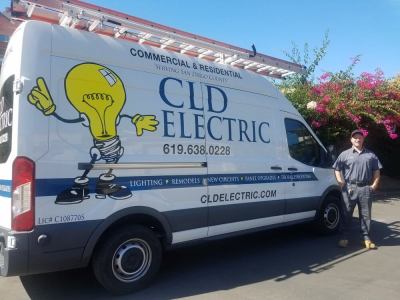 The expert electricians at CLD Electric provide professional electrical services to residents and businesses in the Vista area. Our electricians are in the area ready to perform any type of electrical job you many need. We do everything from service calls to EV charger installs. Our vans are driving all over the city, so give us a call to get on schedule today!
Call Us Today!
Contact Us Today!
Vista Electrical Troubleshooting
Our electricians are experts at troubleshooting electrical issues. If your breaker keeps tripping or your outlets aren't working, give us a call and we will dispatch a team to your home to look at the problem. Many problems can be resolved in an hour or less time. Give us a call to get on schedule today!
Electrical Services in Vista
Panel Upgrade by Vista Electrician
Give CLD Electric a call today to get expert advice when it comes to getting your next electrical job done. Our electricians are out and about in Vista performing panel upgrade in homes and businesses. Our office is waiting for your call!
What do I do if my panel is buzzing? If your panel is buzzing you may want to give our office a call right away. We can send out an electrician to sort things out. If you're hearing buzzing from your electrical panel, it can mean that the load is too large for your circuit breakers. This is very serious and can cause a fire.
How do I know if I need a new electric panel? The electricians at CLD Electric can provide you with the information necessary to decide whether or not you need a new panel. Give us a call and we will talk over your project with you.
Local Electrician Needed
Locally owned and operated, CLD Electric is ready to help with your next electrical project. Our expert electricians have a fast response time because we know how important your job is. We will treat you like one of the family. We offer senior citizen and military discounts. Free estimates on new work are also available. Give us a call to get on schedule today!
Recent Blog Posts