Local Santee CA Electrician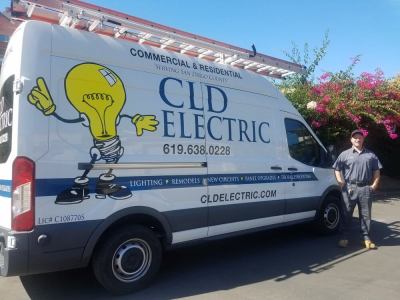 A good Santee electrician can be hard to find but if you live in the area you know you can count on CLD Electric. Our well stocked vans are traveling the area every day providing fast electrical estimates and troubleshooting residentials issues. If you need assistance with your home's electrical system, give us a call today!
Call Us Today!
Contact Us Today!
Santee Electrical Troubleshooting
Figuring out what is wrong with your electrical system can be tricky if you don't know what exactly to look for. That's why you need a local electrician who knows your area and what to examine to find the problem. Our technicians are trained to troubleshoot and find the route of the problem quickly. We will explain to you what's going on and what we need to do to fix it. It is our policy to be upfront and keep you included in all the work that needs to be complete. If you have a job that needs done, get in touch!
Electrical Services in Santee
Lighting Installation by Santee Electrician
There are so many options when it comes to lighting the inside and outside of your home. With options comes a lot of decisions to be made. You may not know what type of lighting works best to light your kitchen, bathroom, or patio. That's where we come in. Our expert electricians can provide you with the knowledge necessary so you can make the best decision for your home.
Popular indoor lighting options:
Recessed lighting
Track lighting
Under-cabinet fixtures
Pendants
Chandeliers
Wall sconces
Outdoor lighting purposes:
Security
Accent lighting
Large area lighting
Focused lighting
Whether you need a lighting change indoors or outdoors, we're here to help! Give us a call today!
Do you need a house rewire?
A house rewire is a big project that can take some time to complete. There are some warning signs your house may show when it's time to rewire your home. Those signs may include flickering lights, sparks when plugging in appliances, frequently tripped breakers, and more. The only way to be truly sure if you need a house rewire is to contact an electrician like those a CLD Electric. We can inspect your home and let you know what needs to be done.