Estimate by San Marcos Electrician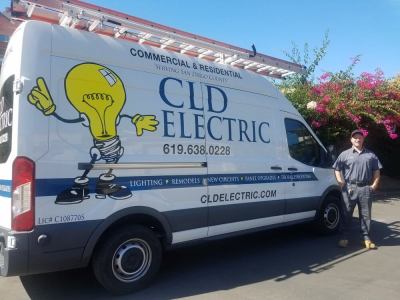 It shouldn't be hard finding a San Marcos electrician. However, finding the best electrician in San Marcos may be a different story. Fortunately, you have found CLD Electric — a San Marcos electrician for over 20 years. We are proud to provide electrical services to residential, commercial, and industrial properties. Give us a call to find out more today!
Call Us Today!
Contact Us Today!
Locally Owned and Operated San Marcos Electrician
Doing work with locally owned and operated companies help keep the economy afloat. When you allow CLD Electric to help with your electrical issues, you're not only helping a local electrician, but you can also be sure you are getting the best service around. We are proud to provide estimates and discounts for senior citizens and military members.
San Marcos Electrical Services
Electric Vehicle Charger Installation in San Marcos
Electric vehicles are more popular today than ever. Whether you want to save on gas or are looking to improve the environment, having an electric car is a great way to do both. Charging an electric vehicle is another story. There are different ways you can do so. When you want to charge your EV at home, you'll need to install an EV charger. A qualified electrician, like those at CLD Electric, can help you do so.
Why should you install an electric vehicle charger at your home? The ease of charging your vehicle is a great reason to install an EV charger at home. Simply park, plug in, and charge. No more worrying about paying fees in the mall parking lot. No more worrying how long your next charge will last. Installing an electric vehicle charger at home can be a great way to keep your vehicle charged up at all times.
How To Find a Local Electrician
Stop looking! You've found a local San Marcos electrician with 5 star reviews on Yelp and Google. Give us a call today and learn why! We offer discounts and fast estimates to keep the cost low. Locally owned and operated for over 20 years, CLD Electric offers fast service response time to complete your project on time and on budget. Call us now to get on schedule!