Expert Electrical Services in Rancho Bernardo CA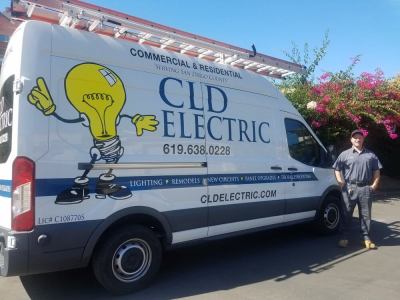 Home and business owners in Rancho Bernardo can rely on the technicians at CLD Electric to perform their electrical jobs with speed an accuracy. With estimates and discounts for military and senior citizens, you can be sure you're getting the best rates out there. Our vans are on the streets every day – make sure to give us a call today to get on schedule!
Call Us Today!
Contact Us Today!
Electrical Troubleshooting for Rancho Bernardo
Electrical troubleshooting is done to find a problem that doesn't have a clear solution. Common jobs that require troubleshooting include electrical surges, improperly working light switches, circuit breaker tripping, or circuit overloads. An electrician will be dispatched to your home to look over your problem and find the best solution. The electricians at CLD Electric are experts at troubleshooting and can often fix the problem within an hour.
Electrical Services in Rancho Bernardo
Whole House Surge Protectors in Rancho Bernardo
Whole house surge protectors protect your home by only allowing the "good" electricity into your home. These boxes are typically installed to your electrical panel and protects all your appliances and systems in your home. Just like a power surge strip, when excess power comes through it is stopped in it's tracks.
Why can't I just use a small surge protector? Though they basically do the same things, plug in surge protectors do not offer as much protection as whole house surge protectors do. These larger protectors are built to withstand large surges and can last up to years.
Do I need a whole house surge protector? Actual homes need surge protection today more than ever before. With the advancement of technology, our devices are in need of protection even more. From lighting to computers, it's important to protect ever aspect of your home.
Local Rancho Bernardo Electrician
The electricians at CLD Electric are experts in their field. They're also local electricians to the Rancho Bernardo area. We have been in the area for over 20 years and are licensed, bonded, and insured. We pride ourselves in making our customers feel like family and love to build long lasting relationships. Our company offers estimates on new work as well as discounts to senior citizens and military personnel. Call us today to get on schedule!