Estimate by National City Electrician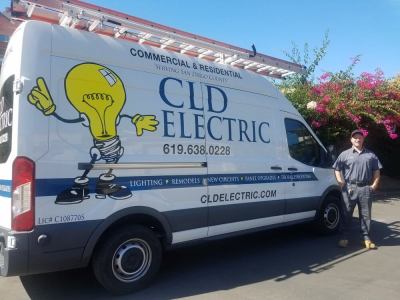 National City electricians who give estimates may be rare but at CLD Electric we are proud to provide estimates for residents and business owners. With over 20 years of experience in the business, we are proud to provide optimal customer service and integrity with every job. When you become our customer, you become family. Give us a call today!
Call Us Today!
Contact Us Today!
Locally Owned and Operated National City Electrician
Whether you need a house rewire or a new light fixture, finding a local electrician you can count on is important. The next time you are searching for an electrician near you, be sure to give us a call. We have been servicing the National City area for over 20 years and are proud to call San Diego our home.
National City Electrical Services
100 Amp Panel Upgrade in National City
When it comes to your home's electrical system, a panel upgrade may seem scary and expensive. It's important to understand why you may need an upgrade so you can make an educated decision. Our electricians are with you every step of the way to help with this project.
What to look for when consider a panel upgrade? Whether you home is older or you're just adding new appliances to you home, there are signs to look out for. If you notice lights flickering when you plug in or turn on a device, your electrical panel may be too full and this is a sign it's time for an upgrade. If you are making a large purchase, such as a new washer or dryer or an electric vehicle charger, your main panel may not be large enough and will require an upgrade. If you have an older house and the electrical system hasn't been looked at in centuries, it may be time to have an electrician out to take a look.
How To Find a Local Electrician
Stop looking! You've found a local National City electrician with 5 star reviews on Yelp and Google. Give us a call today and learn why! We offer discounts and estimates to keep the cost low. Locally owned and operated for over 20 years, CLD Electric offers fast service response time to complete your project on time and on budget. Call us now to get on schedule!