Free Estimate by Lemon Grove Electrician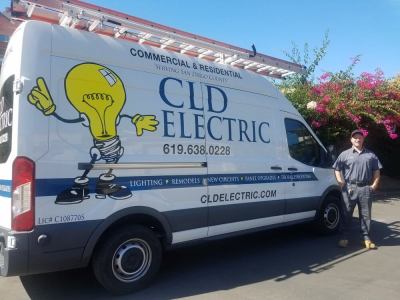 With over 20 years of experience, CLD Electric would love to become your Lemon Grove electrician. We are proud to provide Lemon Grove with residential and commercial electrical services. Our team tries to keep electrical work affordable by offering free estimates as well as military and senior citizen discounts. CLD Electric was founded on priciples of integrity so you know you can trust us. We will only give you optimal customer service to make you a happy, lifetime customer!
Call Us Today!
Contact Us Today!
Locally Owned and Operated Lemon Grove Electrician
We want to become your next local electrician to provide you everything from whole house rewires to electrical troubleshooting. Home and business owners around the area have been relying on CLD Electric for over 20 years. Give us a call today to become our next happy customer!
Lemon Grove Electrical Services
Electric Vehicle Charger Installation in Lemon Grove
It's definitely an uprising trend. Home owners around the area are installing new electric vehicle chargers for their new cars. With the convience of charging your car on your terms, who wouldn't want a new home EV charger? Adding a charger to your home can help save you time and money when it comes to powering your electric car.
Do I need an electrician to help install an EV charger? That depends. Many electric cars can charge straight from a normal outlet, but it is very, very slow. For optimal charging you will want to add, at the very least, a 14-50 outlet. This is similar to the outlets used for your washer and dryer. You can also opt to have an electric vehicle charger installed. This option will vary based on the vehicle you own but an electrician can help recommend the best one for your situation. The last two options will require the help from a professional electrician.
How To Find a Local Electrician
Stop looking! You've found a local Lemon Grove electrician with 5 star reviews on Yelp and Google. Give us a call today and learn why! We offer discounts and free estimates to keep the cost low. Locally owned and operated for over 20 years, CLD Electric offers fast service response time to complete your project on time and on budget. Call us now to get on schedule!