Searching Electricain Near Me in La Mesa?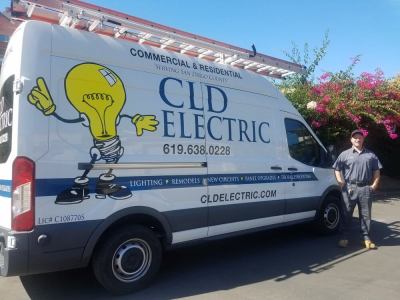 If you are Google searching "electrician near me" in La Mesa, CA… well, you've made it to the right place! We are you local electricians! CLD Electric can handle every electrical project you have, no matter how big or small. From electrical service calls to whole house rewires, we do it all! Give us a call today so we can help you!
Call Us Today!
Contact Us Today!
Residential Electrical Services in La Mesa
Being a homeowner can sometimes seem like a full time job. Mowing the grass, trimming the trees, paiting, and more, the last thing you want to worry about is your electrical system. CLD Electric has a fleet of well stocked van in the La Mesa area to help you with your next home electrical project. Our electricians have the experience necessary to get your job done correctly. Get in touch today!
Electrical Services in La Mesa
La Mesa Panel Upgrade
The electrical panel in your home is like it's lifeline. This is what connects the outside power to the outlets that power all of your appliances as well as all the lighting in your home. If your panel is too old or small, it may not provide enough electricity to your home and can even be a hazard to your family.
How do you know if your home needs a panel upgrade? There are a couple of telltale signs you can look out for:
Fuse box is still present
Home is more than 20 years old
Warm electrical panel
Electrical panel smells
Frequently tripping panel
Flickering or dimming lights
Installation of new appliances
If any of the above circumstances apply to you, you may need a new panel upgrade. A professional electrician, like those at CLD Electric, can provide you with the information necessary to make an informed decision about your home's electrical panel.
Home Safety Inspection
The electricians at CLD Electric believe that safety comes first. This is why we have a special home safety inspection checklist to evalute the electrical system in your home. Our inspection checks for the quality and reliability of your system while covering all the potental issues that can be found in your home.