Free Estimate by La Jolla Electrician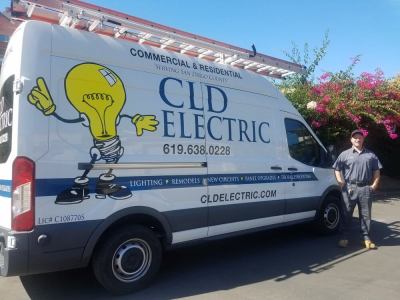 Looking for an electrician in La Jolla doesn't have to be difficult. If you've found this page, you can be certain we can get your next electrical project completed for you. Our company has been serving the La Jolla area for over 20 years. We make electrical services more affordable by offering senior and military discounts as well as free estimates. Give us a call today to see how we can help you.
Call Us Today!
Contact Us Today!
Locally Owned and Operated La Jolla Electrician
CLD Electric is proud to part of the La Jolla community. We were founding on the principles of integrity and providing optimal customer service. It doesn't matter if you need a full house rewire or a new outlet installed, we can help. If you haven't used us before, call us today and say hello to your new local electrician!
La Jolla Electrical Services
Electrical Troubleshooting in La Jolla
Many electrical issues require troubleshooting. Any electrician can provide troubleshooting, but you want to find the best electrician in your area to provide you with prompt services. Electrical troubleshooting requires skill and knowledge to be completely quickly and efficiently. When you call CLD Electric, we will send out a licensed electrician to help assess your situation. We have the tools necessary to check all the connection and determine if electricity is reaching the areas it needs to. This helps us complete the job faster.
Do I need electrical troubleshooting for my issue? It depends on the issue you are experiencing. By contacting CLD Electric, we can provide you with the information you need to make an informed decision. If troubleshooting is required, we can have our professionals take a look and find the issue.
How To Find a Local Electrician
Stop looking! You've found a local La Jolla electrician with 5 star reviews on Yelp and Google. Give us a call today and learn why! We offer discounts and free estimates to keep the cost low. Locally owned and operated for over 20 years, CLD Electric offers fast service response time to complete your project on time and on budget. Call us now to get on schedule!
Recent Blog Posts