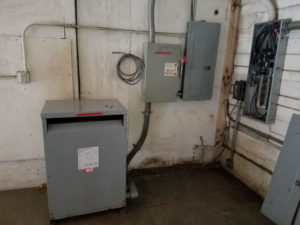 What is a sub-panel?
A sub-panel is a strange term to many. Most people only know about the main electric panel in their commercial or industrial facilities. A sub-panel is an extension of this main electric panel. It is there to support the main panel when it doesn't have sufficient space to serve your needs. The sub-panel draws power from the main panel.
In homes or industrial areas, installing an electrical panel is a serious business. It is unsafe for an inexperienced person to attempt this project. Even an inferior electrician will end up doing a shoddy job that puts lives and your facility at risk.
Hence, when you need to install or upgrade any electrical panel for industrial electrical jobs, there can be no mistake in hiring a professional licensed electrician.
When do I need to upgrade my electrical panels?
Upgrading a sub panel is not done without a good cause. You can call an experienced electrician to inspect your facility and determine if this is necessary. There are several signs you may experience that show the need to call for professional assistance. They include:
Corrosion or rust on the sub electrical panel or breakers
Using multiple extension cords at a time
Observe crackling sounds or burning smell from the panel
You need additional outlets
Appliances or machines need to be on a dedicated circuit
Overheating electrical service conductors
Machines are not operating at their full power
Addition or renovation to the facility
Need for 240-volt circuits
Installation of new equipment
The insurance company demands the electrical panel upgrade
What to know about a sub-panel installation
The purpose of an electric sub-panel for your facility is not to add more power. Rather, it provides for a highly efficient and easy to manage electric service from the main panel to all parts of the facility. It boosts the reliability of your electrical system.
The electric sub-panel serves as the panel for a separate area of the facility where there is a greater demand for electrical service.
A licensed, trained, and professional electrician is needed.
A sub-panel upgrade for industrial electrical jobs is a complex project. It requires skill, experience, and vast knowledge. When you need this service from CLD Electric we make sure to send you only trained and licensed industrial electricians for the job. Our technicians will deliver on a quick and quality upgrading service with little to no mess left behind. We ensure you can get back to work in the shortest possible time.
The importance of reaching out to CLD Electric for a hassle-free service is enforced by the following reasons:
We provide the right-sized panel to meet your needs.
We use appropriate materials and methods
We pull the necessary permits.
We repair or replace existing wiring to meet with current codes and standards.
We work with an accurate knowledge of your new system, panel, wiring, and functions.
Our principles which are driven towards customer satisfaction, are what have made us outstanding over the years. Call CLD Electric today!