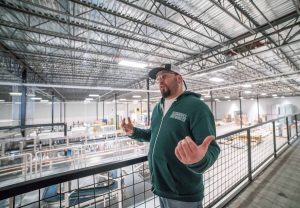 Perhaps one of the most common lighting types electricians come across when retrofitting to LEDs is high bay lighting. Frequently found in a variety of different areas such as warehouses or even hockey rinks, the high bay has many uses. Take a large indoor space that needs illuminated, high bay lighting is perfect for the job. Fixed or hanging from the ceiling by hooks or chains, high bay lighting can light up a large space with minimal effort.
In the times before LED lights were popular, many older fixtures were retrofitted to fluorescent tube lighting. These were definitely an upgrade at the time, but cannot compare to new technology and its cost. With recent advancements in LED technology, more and more companies are turning to the electrical pros to retrofit fluorescent lamps to LED.
When retrofitting fluorescent high bays to LED, there are many pros. Newer LED bulbs have an average of 50,000 hours. This means there will be less time needed for maintenance. Most times the lamps being replaced are high ballast factor and switching them out could bring in a huge energy savings.
Here are some benefits of retrofitting fluorescent high bays to LED:
Lower Energy Use
Greater Light Quality & Levels
Better Quality Control
Products Last Longer
Maintenance Costs Reduced
Better Light Level & Color Uniformity
Lower Environmental Impact
Some Rebates May Be Available
CLD Electric is here to make your life easier as your San Diego electrician. Our goal is to provide you with the best services and advice necessary to make the right decisions. Whether our technicians are performing residential, commercial, or industrial work, we provide the utmost care on the job site. View more information on our industrial services by clicking here.