Free Estimate by Imperial Beach Electrician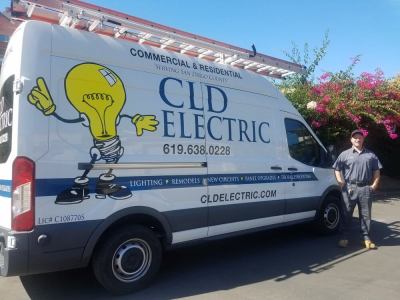 Imperial Beach electrician has the knowledge and expertise to complete any residential or electrical job. CLD Electric is proud to service all electrical systems in Imperial Beach and the surrounding area. Our team provides free estimates and discounts to military and senior citizens. Our company tries to provide only optimal customer service. Come join the CLD Electric family!
Call Us Today!
Contact Us Today!
Locally Owned and Operated Imperial Beach Electrician
From house rewires to panel upgrades, your local electrician is here to help with any electrical project you might have. CLD Electric has been providing Imperial Beach residents and business owners with expert electrical services for over 20 years. Give us a call today to get on schedule. We treat you like family. You won't be disappointed!
Imperial Beach Electrical Services
Imperial Beach Electric Vehicle Charger Installation
Our electricians are proud to provide EV charger installations in Imperial Beach and the surrounding areas. We strive to provide our customers with the most cost effective and timely services around. When it comes to your installation, don't trust just anyone!
How can I charge my electric vehicle at home? Just like your smartphone, an electric vehicle needs to be plugged in to charge. When you arrive home, simply plug your car into the charging station and wait a while. In a few moments, depending on the type of vehicle and charger you have, your car will be charged up and ready to go. One of our electricians can guide you through the process of choosing the best charging type for your home.
How To Find a Local Electrician
Stop looking! You've found a local Imperial Beach electrician with 5 star reviews on Yelp and Google. Give us a call today and learn why! We offer discounts and free estimates to keep the cost low. Locally owned and operated for over 20 years, CLD Electric offers fast service response time to complete your project on time and on budget. Call us now to get on schedule!