Escondido CA Electrical Troubleshooting & Estimates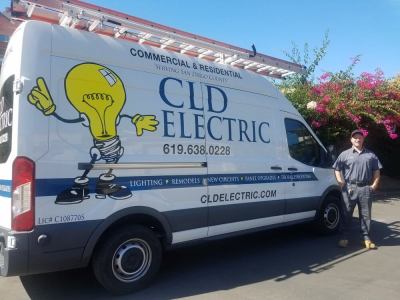 Your Escondido electrician at CLD Electric is standing by waiting to provide you with expert electrical services. We offer a variety of services to residential properties and businesses alike. From new construction to house rewires, we can do it all. Give us a call today if you need an electrical project completed and we will get you on schedule as quickly as possible!
Call Us Today!
Contact Us Today!
Escondido Electrical Service Calls
If you are experiencing a problem electrically in your home you should contact an electrician, like those at CLD Electric, immediately. The sooner you call an electrician, the quicker the problem can be solved. It is also possible that an unchecked issue could pose a greater danger on your home or family. It can also cost you more money in the end as your electric bill could go up.
When you call CLD Electric with an electrical issue we will normally set you up with a service call. With a service call we will send out an electrician who will troubleshoot the issue you are having and fix the problem on the spot – this is usually done in less than an hour.
If you are experiencing an issue with your electrical system, don't hesitate to give us a call!
Electrical Services in Escondido
Electrical Remodels by Escondido Electrician
If you're considering remodeling your home, you may also want to consider having an electrician on hand to help with the renovations and get your property up to today's standards. In older homes, the wiring may be out of date so during a remodel it's the perfect time to get this taken care of.
What can electrician do for me during a remodel? An electrician can perform many jobs during a remodel. Large jobs such as a rewire can be completed when you have the walls open during construction. Smaller jobs such as hiding cables or cords for your TV as well as upgrading lighting in your home can also be performed.
Will I be able to afford the electrical during a remodel? Actually, performing electrical upgrading can be more affordable during a remodel or renovation! You will likely have the walls open so it will be easier to access the electrical and you won't have to worry about closing up the holes as you'll already be doing that.
Need An Electrician Near You?
You're choice of an electrician should be one that is close to you. Locally owned and operated electrical contracting company, CLD Electric is ready to take your call! We offer discounts to senior citizens and military members as well as fast estimates on all new work! The big electrical companies will treat you like a number, we treat you like family! We've been in the San Diego area for over 20 years. Give us a call today to get on schedule!