Electrical Services by Coronado Electrician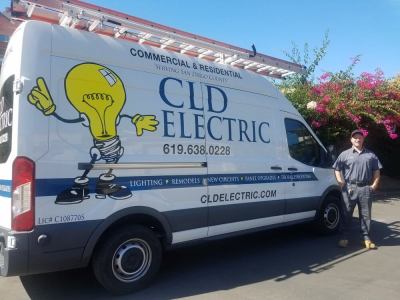 When you call your Coronado electrician for an electrical service, you can be sure you are calling the best electrician in town. Our technicians have years of experience in residential, commercial, and industrial electrical services. CLD Electric has been proudly service the San Diego and surrounding areas for over 20 years. We are proud to give military and senior discounts as well as offer fast estimates on work. We aim to make our customers happy — just give us a call!
Call Us Today!
Contact Us Today!
Your Family Owned Coronado Electrician
Whether you need a new outlet installed or a complete house rewire, we're your electricians to call. Family owned and operated, CLD Electric is proud to serve all San Diego. The residents and business owners of Coronado can feel secure knowing that our electricians are just a phone call away. For over 20 years we have been providing you with expert electrical services and pledge to continue for years to come!
Coronado Electrical Services
Home Safety Inspection
Fast Estimates
Whole House Surge Protector
Panel Upgrades
Flickering Lights in Coronado
When you plug in your hair dryer and the vanity lights start dimming, you may have an electrical issue on your hands. We know that when you experience flickering lights in your home or business, it definitely can be frustrating. It's important to know the difference between needing to change a light bulb and when it's time to get an electrician at your house.
When to call an electrician for flickering lights? If you are noticing your lights start to dim when the refrigerator or air conditioner turns on, it may be time to call an electrician out to check on things. When the motor starts running in larger appliances, it draws a lot of current. These appliances should be on dedicated circuits. If they are not, please consult with an electrician to upgrade your set up.
Trouble Finding Local Electrician?
A good local electrician can be hard to find but CLD Eletric could be your last stop. The electricians at CLD Electric have years of experience serving the San Diego area. We are proud to dispatch electricians to the Coronado area to help businesses and residences with their issues. Our technicians are on time and work fast to keep the project on schedule and within budget — but don't think that makes our work cheap, we are licensed and insured to provide you with the best quality work. Just check out our Google and Yelp reviews! So what are you waiting for? Give us a call today!
Handy Guide to Coronado
Check out the links below for things to do in Coronado. We're always open to suggestions, so if you think there is anything to add, get in touch with us!