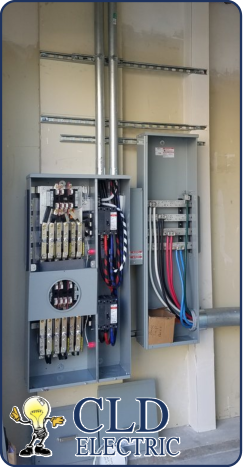 If you are a business owner, you recognize the need for a set of specialized contractors to take care of your properties. A commercial electrician is a must-have if you own or operate a business. You need someone familiar with large-scale electrical components in order to keep your business up and running smoothly. Hiring a contractor to take care of upgrades, maintenance or problem repairs isn't quite as easy as picking a standard electrician. You need one that specializes in commercial and industrial environments.
We are knowledgeable in Single and 3 Phase Systems
Due to laws and insurance requirements, the commercial electrical work needs to be completed by an electrician with a license. This protects you and any clients, employees and tenants that work or visit your buildings.
Commercial Electrical Troubleshooting
Identifying an electrical problem in a commercial building is a little more difficult than in a residential house. You are dealing with numerous panels and in many cases, several floors and hundreds of contact points. This will require a variety of tools. The wiring is far more technical and higher amp situations are normal, which increases the risk of a life-threatening electrical shock.
Some other areas where a commercial electrician is advisable are listed below.
Parking lot lights, whether it is installing new ones or repairing existing ones
Security systems—identifying problems and providing backup power to ensure the business is always protected
Backup generator installations
Lighting needs inside the building, upgrading, repairs and replacements
Troubleshooting electrical problems inside the building
New equipment installation along with the wiring needed to run the equipment
A switch to solar
Electric Commercial Panel Upgrade
Old commercial buildings may be structurally sound, but buildings that are older than forty to fifty years may not be able to handle the electrical demands of a 21st century business. With more equipment needed to operate a business, you are going to need more electricity, which can be achieved with a commercial panel upgrade. If your panel isn't large enough for your business, you are actually hindering your business and likely frustrating employees and customers.
A few things that indicate it is time to upgrade the old panel are:
Humming or fizzing sounds coming from the electric panel
Scorch marks around the wall where the panel is mounted – a definite warning sign
Burnt wires or melted wires
Signs of corrosion on the breakers or around the panel itself
The panel is hot to the touch or the wall around the panel is hot
A lack of power to run all of the equipment and lighting in the business, which indicates that you are lacking sufficient electricity and need a panel upgrade to bring in more electricity to run the business
Tripping breakers that signify an overloaded circuit.
Flickering lights, especially when the heating or air conditioner units come on
To ensure the best and safest electrical installations on commercial buildings it is always advisable to only hire electricians with the necessary commercial experience to make sure your electrical job is done right, and to commercial standards.