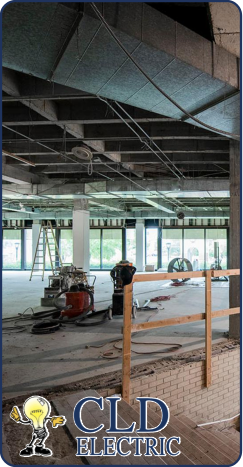 Have you decided to rebuild? No doubt, building renovation can be exciting, but it involves many tasks to ensure a sustainable and quality result. When it's time to remodel or renovate your office building, it's important to have an electrician who can help you with the electrical system needed in your building. This is where the experts at CLD Electric come in.
At CLD Electric, we have the knowledge and experience in electrical installation and renovation work. Our experience will speed up your work and save you money in the long run. Our experienced and local electricians are always ready, willing and able to make your building renovation successful.
When you have CLD Electric as your preferred electrical company, you have nothing to worry about; tell us about your electrical needs and we will get the job done. We can provide complete wiring services for all properties. We can help with the installation of new electrical devices and fulfill all requirements for the renovation of your commercial building.
As a professional electrical company, we are proud to provide the following electrical services:
Commercial Services
Service Calls
New Circuits
Lighting installation
Electrical rewiring
Building Renovations
Electrical Testing Services
Electrical Repairs & Installations
Residential Services
Regular Electrical Maintenance
When you choose us as your preferred electrical company for your renovation project, we will thoroughly inspect your property and provide you with a suitable electrical solution to ensure that it operates as efficiently as possible. To know more about our building renovation services or to schedule an appointment with us, feel free to call or send us an email today.