Electric Vehicle Charger Installation by Chula Vista Electrician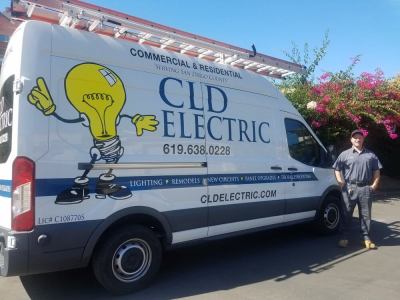 Electric vehicles are no longer the future, they are the now. When residents of Chula Vista purchase their EV, they may not know who to turn to when installing a home EV charger. CLD Electric is here to help. Our electricians are trained to perform any electrical job you can think of. From electrical panel upgrades to outlet installations, we can do it all. We will make you a happy customer — just give us a call!
Call Us Today!
Contact Us Today!
Your Local Chula Vista Electrician
If you are looking for a local electrician, look no further! With over 20 years of experience, CLD Electric is an electrician near you. Family owned and operated, we are dispatching electricians to the Chula Vista area every day. Just give us a call or text at (619) 638-0228 today!
Chula Vista Electrical Services
Power Out in Chula Vista?
If you find yourself without power in the Chula Vista area, after checking for a citywide outage, it may be time to call an electrician. Loss of power can be caused by a lot of things — tripped breakers, blown fuses, etc. Your circuits may be drawing more current that they can provide safely. Call a local electrician, like CLD Electric, to come out and check on things before it becomes a more serious matter.
When should I call an electrician for power loss?
After checking with your electrical service provider to make sure there isn't a problem on their end, you should call an electrician for power loss when it becomes a frequent issue. If you are noticing a loss of power every couple of days or even weeks, it may be time to call an electrician to check out your electrical panel to ensure you have enough space.
Local Chula Vista Electrician
With a 5 star rating on Yelp and Google, CLD Electric has become Chula Vista's go to electrician. Give us a call to find out why! We are proud to offer military and senior discounts as well as fast estimates to help keep your electrical work costs low. Our business has been locally owned and operated for the past 20 years. We offer a fast service response time to help keep your project on time and within budget. Don't hesitate, call us today!