Fast Estimate by Alpine Electrician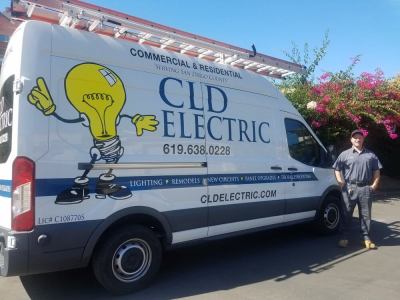 If you are looking for an electrician in Alpine, CA, look no further! CLD Electric has been serving the Alpine area for over 20 years. We are proud to offer senior and military discounts as well as fast estimates. Founded on principles of integrity and excellent customer service, our Alpine electricians are certain to treat you like family. Give us a call to get on schedule today!
Call Us Today!
Contact Us Today!
Locally Owned and Operated Alpine Electrician
When you choose a local business, you know you can trust them. CLD Electric is locally owned and operated and has been in the Alpine area for over 20 years. We complete all electrical work, from house rewires to outlet installations. Need some electrical troubleshooting done? Give us a call. Our dispatch team is ready to take your call and get your job finished!
Alpine Electrical Services
100 Amp Panel Upgrade in Alpine
Having an electrical panel upgrade in your home is no easy decision. Home owners facing this task may not know where to turn. That's where CLD Electric comes in. We are with you every step of the way. Whether you have questions or are ready to go, give us a call and we can help you out.
When do I need a panel upgrade in Alpine? This is a very good question that our Alpine electricians can discuss but generally you'll need a new panel for two reasons: your current panel is old or you need more space. Sometimes it can be a combination of the two. If your home is older, your electric panel could be older and pose a hazard for your family. If you are adding new appliances, you may need more space in your electric panel. Either way, consult with one of our electricians and they'll be happy to tell you if you do, in fact, need a panel upgrade.
How To Find a Local Electrician
Stop looking! You've found a local Alpine electrician with 5 star reviews on Yelp and Google. Give us a call today and learn why! We offer discounts and fast estimates to keep the cost low. Locally owned and operated for over 20 years, CLD Electric offers fast service response time to complete your project on time and on budget. Call us now to get on schedule!